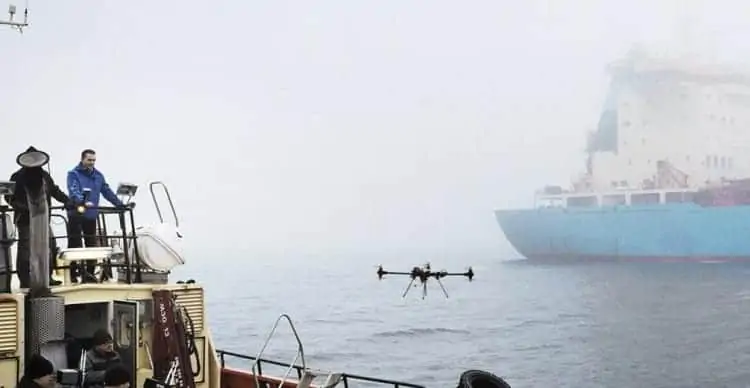 Maersk Tankers has announced that it has successfully completed what the company claims is the first drone delivery to a vessel at sea. The test delivery took place near Kalundborg in Denmark. Using drones to deliver urgent parcels to vessels and conduct inspections has a big cost- and time-saving potential for Maersk Tankers.
Maersk Tankers faces high costs for on-board delivery of small parcels filled with urgent spare parts, mail or medicine due to the need for a barge. In the tankers business, it can be difficult to predict far in advance which port will be called at next, and even when in port, it can be complicated and expensive to deliver items to vessels as they are not alongside the quay.
"Costs for a barge are on average USD 1,000 and can easily go up to USD 3,000 or more. With the current pay-load of drones, on average a vessel has 3 cases per year in which the barge transport could be substituted by a drone – meaning a potential avoidance of barge costs of USD 3,000-9,000 per vessel per year. And if you consider that Maersk Tankers has around 100 vessels, the savings potential could be substantial," says Markus Kuhn, Supply Chain Manager at Maersk.
The drone used for the test was from the French company Xamen and ATEX approved (zone 2). The test involved the delivery of a small parcel. Due to bad weather conditions, it was not possible to launch the drone from the shore as planned, but the parcel was instead successfully dropped from 5m onto the vessel after having flown in from a tugboat. The test took place at Kalundborg and was approved by Danish authorities.
"It is fundamental that any drones used by Maersk Tankers are safe for the environment they are operating in. They must be certified as intrinsically safe for most tasks, so they cannot create any spark, even if they were to crash. Some inspections can pose risks if performed by humans. If drones are
approved for tank inspections, it will improve safety on tankers and potentially in other oil-related installations," said Markus Kuhn.
As well as delivering urgent parcels, drones have the potential to be used for inspections e.g. to take high quality photos or videos of certain areas to identify cracks. Such potential early findings could avoid higher expenses if problems are only discovered later.