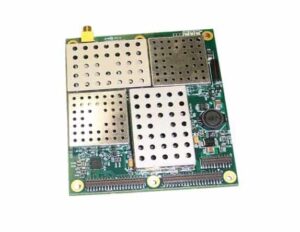 Lexycom Technologies Inc., a manufacturer of miniaturized Software Defined Radios (SDRs), has announced the introduction of the company's latest product, the Telmair-TR400 – a data diverse 270-400MHz SDR.
The Telmair-TR400 is a fully digital, user programmable data transceiver that utilizes Frequency Hopping Spread Spectrum (FHSS) technology: preloaded FHSS sequences, user-defined patterns, or operates as a single-frequency device. The Telmair-TR400 supports RF channel data communication speeds from 19kbps up to 1.3Mbps; it provides 10/100BaseT Ethernet and up to two serial ports (SDLC, RS232/422/485, sync/async mode, up to 1.625Mbps, optional 16x clock for external UART) and a set of low-voltage IO lines. Its wide input voltage range (9-32VDC, built-in 42VDC TVS) allows it to be used in solar-powered applications and onboard of a military manned or unmanned aircraft. The SDR meets MIL-STD-461F as a board-level, can survive super-sonic mechanical stress and be equipped with on-board FIPS-certified cryptographic engine (role based authentication, multiple crypto modes and security keys).
Find suppliers of Data & Communications products >
Additionally, the Telmair-TR400 comes equipped with a variety of network configurations including topologies that are unique to Lexycom products: MasterlessTDMA, self-configuring low-overhead AdHoc, low-latency high-accuracy multiple-hop 1PPS wireless distribution, and Adaptive TDMA (player-by-player dynamic bandwidth adjustments, cognitive QoS-based packet-by-packet RF waveform alternation (three dimensions), several independent data streams per node, full on-the-fly application layer control). The TR400 is available as a board level unit or in an enclosure.