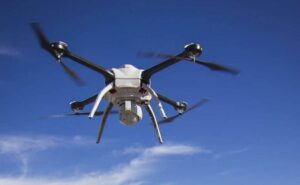 AT&T and Intel have announced that the two firms plan to test how Unmanned Aerial Vehicles (UAVs) work on LTE, a network designed to connect devices on the ground. Intel and AT&T will be working to solve major issues in the space, including connectivity.
Features like a live view of cameras and sensors on the drone or operating it beyond line of sight require a reliable nationwide network for connectivity. The AT&T Internet of Things (IoT) team and the AT&T Foundry innovation center in Palo Alto, Calif., will be working with Intel to evaluate performance of the LTE network at higher altitudes. They will be testing to see how it affects video streaming, transmitting telematics and flight information.
Connecting drones over the network will help address many challenges the category faces, including safety and security concerns, real time communications, potential interference with manned aircraft and supporting future capabilities (such as beyond line of sight), as they are approved by the FAA.
"AT&T and Intel will be testing how the network can enable the most exciting business use cases for drones," said Chris Penrose, senior vice president, IoT Solutions, AT&T. "Our LTE network is uniquely positioned to connect industries like delivery, agriculture, construction and insurance. We're using the network to transfer important information, images and video quickly and efficiently — far beyond the boundaries of short range connectivity."
"This engagement pushes the boundaries in the UAV industry and will pave the way to a connected world in the Internet of Things," said Anil Nanduri, vice president of the New Technology Group and general manager of New Markets within the Perceptual Computing Group at Intel. "Intel believes UAVs have great potential, from inspections, precision agriculture to deliveries of consumer goods and providing emergency disaster relief. We want to grow this market through our collaborations and by integrating new technologies and compute to UAVs."