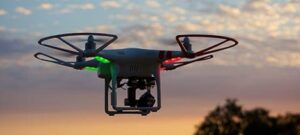 The European Aviation Safety Agency (EASA) has announced that it has issued a technical opinion on the future of unmanned aircraft systems (UAS) in the skies over the European Union (EU), dividing them into three classes, and issuing 27 recommendations for their safe operation in EU airspace.
The proposed regulatory framework creates operational categories based not on weight, but on operational parameters:
Open Category: Consumer-grade vehicles operated without the involvement of an aviation authority. These would include aircraft flown only within the visual line of sight of the operator, at a defined maximum altitude below airspace used by manned aircraft and at specified distances from airports and sensitive zones. These vehicles would not be allowed to fly over crowds, and they would need to meet industry standards in the case of "toys" that weigh less than 500 grams (17.67 ounces).
Specific Category: Aircraft in this category include vehicles used by the media in urban areas, as well as industrial inspection aircraft. They could also be larger tethered vehicles. These unmanned aircraft would need to undergo a specific operation risk assessment, which would identify all hazards to third parties on the ground or in the air. These vehicles would be governed by an operation authorization specific to their type, airworthiness and operational parameters.
Certified Category: These systems could include international transport operations involving larger unmanned aircraft, which may involve carrying cargo or people in such a way that the risk-assessment process used to approve aircraft in the Specific Category is not sufficient. Operators of these vehicles would need to be certified and pilots licensed.
"This is certainly a starting point for global discussion," said Sarah Wolf, the US National Business Aviation Association's senior manager of security and facilitation. "A lot of states are taking individual action to regulate UAS. That could lead to a patchwork of requirements governing unmanned aircraft, an outcome we are working to avoid." Wolf represents NBAA on the International Civil Aviation Organization's Remote Piloted Aircraft Systems Panel, which is tasked with developing standards and recommended practices for international UAS operations.
NBAA Vice President of Regulatory and International Affairs Doug Carr agreed that the EASA proposal is a first step toward talks that could eventually lead to international operating standards to govern UAS.
"The U.S. is going to have its views, just as EASA has views of its own," he said. "We need to have these conversations soon before we start applying standards that might be exclusionary and too burdensome for the industry to follow."
The FAA has not yet finalized rules for operation of larger unmanned aircraft in the U.S.