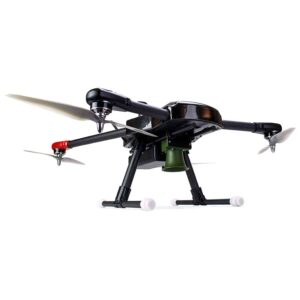 Bird-X, a developer of humane bird control solutions, has announced the release of its new multirotor unmanned aerial vehicle (UAV) for bird control, the ProHawk.
The ProHawk UAV features fully autonomous flight – Bird-X claims that this is the first drone created specifically for bird control to offer this feature. The operator sets a GPS flight path with the included software, selecting the altitude, distance, and other factors. The unit can also be controlled with a remote control, which can be switched back and forth with autonomous flight.
Birds are repelled by a sonic sound unit built directly into the drone, terrifying birds with Bird-X's naturally recorded, proprietary combination of predator calls and prey bird distress cries, as well as Canada goose cries. In addition, the unit creates a physical presence to deter pest birds further, mimicking a predator in order to keep birds from creating dangerous situations.
The unit itself is made of robust carbon fiber, which sets it above plastic models that often wear and break with use. Camera options are available including recorded or live feed video, allowing the user to get a real bird's eye view. Additionally, the unit is extremely intuitive and easy to use. Stuart Wilkins, National Account Manager at Bird-X, stated, "The new drone is extremely user-friendly and features fully autonomous flight. It takes an extremely complicated process and makes it easy for anyone to use."
"We've all seen drones in the news with uses ranging from surveillance to package delivery. We've been using drones for years to keep birds out of unwanted areas, but never before has something this advanced been developed exclusively for the purpose of bird control," stated Dennis Tilles, President of Bird-X.