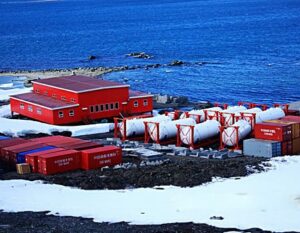 Beijing Normal University has announced that an unmanned helicopter developed by the university has completed its maiden flight from the Great Wall Station in the South Pole, photographing fauna and flora in the area.
"Polar Hawk-2" can operate for about one hour at a time at an altitude of up to 1,500 meters. The lithium-battery powered aircraft is highly efficient, quiet and has low emissions, said Cheng Xiao, head of the research team.
During the hour's flight, the helicopter took over 350 high-quality photos. Since the station is located in the Fildes Peninsula, which is known for its changeable weather, there is a lack of clear satellite photos of the station, while pictures taken by the helicopter clearly show the station, said Cheng.
China currently has four Antarctic research stations – Taishan, Great Wall, Zhongshan and Kunlun.
The photography conducted by the aircraft also recorded the population of animals including penguins and skua, and it has helped inform estimates of the quantity of greenhouse gases over Philip Island, providing support for climate change studies, Cheng was quoted as saying by the state-run Xinhua news agency.
Huang Huabing, a researcher with the Chinese Academy of Sciences, said China's research and development of unmanned helicopters is among the most advanced in the world.
Chinese unmanned helicopters have also conducted flights at the Svalbard archipelago in the North Pole and Zhongshan Station in the South Pole.