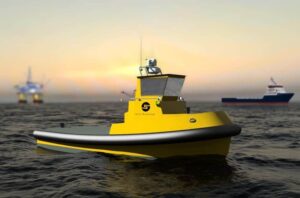 Sea Machines, a developer of unmanned offshore vessels, has announced the release of the V2, a heavy-duty autonomous workboat built for offshore and nearshore operations.
The semi-displacement hull provides open-ocean stability for surveying or USBL communications and the powerful propulsion system delivers more than 20 knots and 3 tons bollard pull when needed.
With a pilot house and helm, the V2 is designed for operators who desire an autonomous vessel that can also be manually-driven as a conventional boat. The V2 is outfitted with Sea Machines' ACS control system, which allows operation of the vessel in three primary gradations of autonomy, with the ability to communicate via wireless radio or satellite. The hull houses a 60cm diameter moon pool for vertical deployment of sensors, sonar, and acoustic systems below the keel. Propulsion is diesel-electric with an optional Siemens hybrid system for quiet running and fuel efficiency.
The vessel has a 60cm diameter moonpool with integrated deployment pole and hydrodynamic doors which are the heart of the V2's remote sensing package. Designed to accommodate high accuracy USBLs, Acoustic Modems, and Multibeam Sonars, the V2 is capable of carrying out missions ideally suited to autonomous vessels, such as AUV Tendering and Collaborative Hydrographic Survey. After deployment, the subsea components are retracted and the doors closed, protecting the sensors and allowing for a high transit speed.
The Pilot House on the V2 provides for a seamless transition between Unmanned and Manned operations.
The V2 is outfitted with continuous foam-filled fendering to simplify dockings and provide structural protection for the hull.
With Sea Machines autonomous control systems, the vessel can operate in 'Line of Sight' and 'Over the Horizon' modes. The Sea Machines user interface is capable of incorporating either a proprietary path planning system or 3rd-party planning software. Sea Machines' control systems include full collision avoidance capabilities and operate under the mariner's "Rules of the Road".