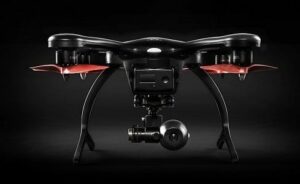 EHang, a manufacturer of UAVs (Unmanned Aerial Vehicles), has announced the release of the newest version of the company's Ghost drone, the Ghost 2.0. The Ghost drone is targeted towards everyday consumers, and the new version includes several major new features, including:
Tilt Control – The Ghost 2.0's proprietary Tilt Control enables consumers to steer with their phone instead of complex RCA controls or the challenging maneuverability of "point and tap" app navigation. Drone pilots operate the drone through EHang's mobile app, which is compatible with both Apple and Android devices.
VR Goggles – To create a truly immersive flight experience, the goggles let users see directly out of the "eyes" of the drone in real time, allowing pilots to take flight in the "cockpit" of the Ghost 2.0. When combined with Tilt Control, users have precise control the drone without the bulk of additional hardware thanks to the goggles' built-in sensitivity to movement: when you turn your head, the camera turns as well.
Seamless filming – The Ghost's app integration enables its user to control both the drone and its camera simultaneously, removing the hassle of managing both the gimbal and drone separately by two people.
New, streamlined design – The Ghost 2.0's interior specs marry approachability with top-line design and engineering.
"With our first two iterations of the Ghost Drone, we were able to build a strong foundation of both engineering and fans to help shape our vision for the Ghost 2.0," said Derrick Xiong, co-founder and CMO of EHang. "Our mission from the beginning has been to bring drones to everyone, and this brings us closer to that reality. We're just scratching the surface of what drones can do and will continue pushing the envelope and innovating to fully deliver on our vision."
Xiong went on to explain that Ghost Drone 2.0 also opens up the world of aerial filming to fliers of all levels. "With the combination of avatar tilt mode and EHang Virtual Reality Goggle, even amateurs can master advanced aerial filming techniques," he said. "That's because you can use your intuition instead of learning to use a complicated RC transmitter. 2.0 also makes it possible for one person to act as both pilot and cameraman."