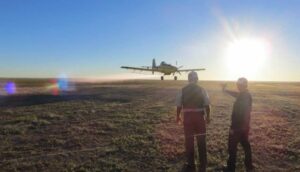 UAS Colorado, a non-profit business league that promotes the aerospace industry in Colorado, and the Colorado Agricultural Aviation Association (CAAA) have announced that they have demonstrated new technology for communication and coordination of flight operations in agricultural areas. The demonstration took place at the CAAA's annual Operation S.A.F.E. Fly-In event, which promotes the safe coexistence of agricultural aviators and drone operators.
The technology demonstrated at the event was based on AirMap, a software service that provides accurate and reliable airspace information to operators and manufacturers of unmanned aerial vehicles. The operation is a proof-of-concept that will be refined and rolled out across the country in the near future.
Sam Rogge, a crop duster from Colorado and a veteran Air Force pilot said, "Drones are a new and exciting frontier in agriculture technology. They are a piece of the puzzle that includes larger manned agricultural aircraft. If both types of aircraft will fly, then finding ways to de-conflict these tools is vital for safety and innovation." Agricultural aircraft protect more than 71 million acres of United States cropland each year. Both drones and crop dusters operate in the low altitude airspace over agricultural fields. Mr. Rogge explained that the key to maintaining the safety of pilots and drone operators will be education, communication, coordination of flights, technology, and appropriate regulatory guidance."
The Airmap solution provides crop duster pilots and drone operators with a simple iPhone app to indicate where and when they intend to fly. The app provides a map visualization of all of the flight plans so that everyone can keep tabs on where other aircraft and drones are operating. Clicking on a flight plan on the map brings up a chat window so that operators can coordinate with each other to avoid collisions.
UAS Colorado Interim CEO Constantin Diehl explained, "This app, powered by AirMap's backend technology, organizes and provides accurate and dynamic airspace information. It allows pilots of manned and unmanned aircraft to know where and when operations take place, and provides a way to de-conflict by directly communicating with one another. We believe this simple and effective approach is key to safe UAS operations."
"We believe information is what will power innovation, and we are making this airspace information available to operators, manufacturers and software developers," says AirMap CEO Ben Marcus. "We believe the best way to promote safety is to make information available in useful ways, regardless of which platform someone is using."
AirMap is focused on creating an open exchange of information to help accelerate the safe deployment of drone-enabled services. AirMap's airspace information is available through APIs and SDKs. The AirMap Software Development Kit has been released for testing to a limited number of application developers and will be fully deployed by the end of 2015.