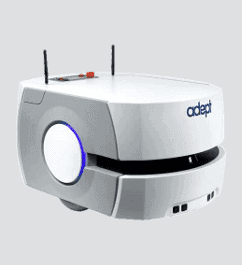 Adept Technology, Inc., a developer of autonomous mobile robot solutions, has announced that the company's Lynx autonomous intelligent vehicle with Acuity navigation has won a Robotics Business Review Game Changer Award. The award was announced during the RoboBusiness 2015 trade show in San Jose, California.
"We are proud that our Lynx mobile robot with Acuity navigation won a Game Changer Award," said Terry Hannon, Adept's chief business development and strategy officer. "Lynx robots are providing users around the world with rapid, dependable goods delivery inside their warehouses, factories, and other facilities, improving their operations' efficiency and safety and lowering costs. Acuity allows the robots to navigate complex facilities even when surroundings change significantly, enabling system deployment into the most dynamic settings."
Standard Lynx mobile robots can operate in dynamic environments where the surrounding features change up to 80 percent. Acuity is a system option that further enhances a robot's navigational capability by using overhead static lighting to pinpoint the robot's location, allowing operation where the floor level environment is even more dynamic. With Acuity, Lynx robots can perform applications such as work-in-progress transport in busy manufacturing settings, materials handing in dynamic warehouses, and can operate effectively in facilities with wide open spaces.
Adept's Lynx AIVs provide autonomous materials transport in industries ranging from manufacturing and warehousing to healthcare and semiconductor. Unlike traditional AGVs, Lynx systems require no facility modifications to function. The robots intelligently self-navigate, avoiding obstacles, and they automatically select the optimal path to complete a task. Lynx robots work collaboratively with human counterparts. They are quick to deploy, work as single units or in fleets, and can run in conjunction with the user's existing enterprise management system.
Tom Green, editor in chief of Robotics Business Review, commented: "Each of these fascinating machines had a backstory about it that told much about the people who created them. Most were the product of years of labor and problem solving; some had taken as much as decades to get to our office door. In the process, robotics was well served and expanded upon with the creation of something practical and worthy."