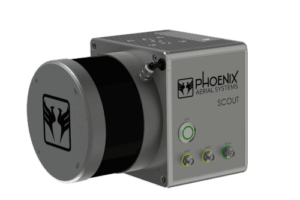 Phoenix Aerial Systems, a provider of geo-spatial information collection systems, has announced the Scout, a small real-time kinematic (RTK) LiDAR system for unmanned aerial vehicles (UAVs). The Scout is an ideal solution for both new entrants and experienced firms looking to offer an aerial LiDAR solution for jobs considered too small for conventional LiDAR systems.
The Scout weighs 1.85kg (4 lbs), minimizing UAV power usage and maximizing flight time. At the core of the Scout is the Velodyne VLP-16 puck, which features 16 lasers spread out over a 30º vertical field of view, a 120 meter range and the ability to capture up to 300,000 measurements per second and up to 600,000 per second in dual return mode.
The Scout includes Phoenix Aerial's proprietary software suite which allows the operator to view a high-definition 3D point cloud in real time and guarantees minimal data gaps as well as proper vegetation penetration.
In addition to LiDAR, the Scout also includes an RTK photogrammetry option, giving users the ability to deliver LiDAR plus industrial-grade RGB/NIR imagery data simultaneously. This combination of LiDAR and multispectral imagery makes the Scout a highly capable precision agriculture and forestry UAV mapping system.
Although designed for aerial use, the Scout can be quickly mounted to ground-vehicles or even used for hand-held mapping applications, adding to the versatility of the system.