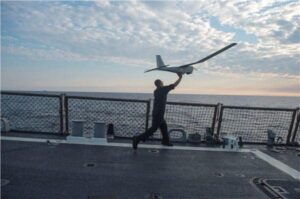 The US Navy has announced that it has tested AeroVironment's RQ-20 Puma unmanned aircraft system (UAS) aboard the destroyer USS Gonzalez. The testing was part of a Composite Unit Training Exercise (COMPUTEX), and was used to observe the effectiveness of the second iteration of the all-environment Puma variant. The Puma is designed for maritime use, and can be used in situations requiring greater maneuverability with unmanned craft, such as maritime interdiction and counter-piracy operations.
The all-environment term comes from the aircraft's ability to withstand temperatures ranging from -20 to 120 degrees Fahrenheit, an inch of rain per hour, and wind speeds of 25 knots. The Puma is fully operational day or night, and its smart batteries and waterproof body allow for many types of missions all over the world.
"When I first checked aboard USS Gonzalez I wasn't expecting to get the opportunity to run the PUMA project, but after working with the equipment and people, I realized its capabilities are innovative and resourceful," said Ensign N. Sanchez. "It augments what we are already capable of doing. It really aligns with the Chief of Naval Operation's mandate to 'operate forward and be ready'."
Nine of the 12 PUMA team members are enlisted PUMA operators. Each was hand-picked as the best in their field by the command and attended a two-week course in Camp Lejeune, NC.
"We spent countless hours doing classroom and field training. It was a lot to learn but we all walked away really confident in our abilities to operate PUMA successfully and help carry out the Navy's mission," said Operations Specialist 2nd Class E. Luck, the first female PUMA pilot.
A two-person team controls PUMA locally; it can also be remotely controlled inside the skin of the ship.
At the end of operations it can land on the ship's deck in a net or in the ocean with follow-on retrieval by rigid-hull inflatable boat. In case of an inability to recover, no information can be taken as all information is transmitted to and kept within the receiving ship.
PUMA weighs 13.5 pounds with a wingspan of just over nine feet and has an operating altitude of 500 feet or higher in order to maneuver above terrain.
"It has been exciting to field this technology in a robust environment such as the Composite Training Unit Exercise," said Cmdr. Stefan Walch, commanding officer. "We have learned a lot of lessons that will prepare us for deployed PUMA operations on destroyers."