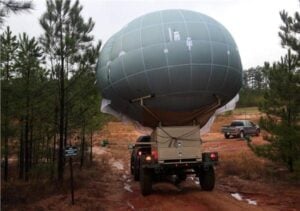 Drone Aviation Holding Corp. (DAC), a manufacturer of tethered drones and lighter-than-air aerostats, has announced that its U.S. Army-owned WASP (Winch Aerostat Small Platform) tactical aerostat has successfully completed the US Department of Defense Enterprise Challenge 2015 (EC15). The WASP provided real-time situational awareness to participating ground forces and personnel, and as a result of the system's performance, DAC will continue to support the U.S. Army-owned WASP systems for future exercises.
The Enterprise Challenge program was created to explore how various technologies could collect, send and retrieve data from the field through a secure, interconnected network of multiple agencies, partners and organizations, providing access to real-time data and video. The WASP systems were used to capture and relay real-time, high definition video to various handheld devices, tablet computers and other deployed systems.
The WASP is a highly tactical and mobile aerostat system that provides ISR and communications range extension beyond that of normal tactical relay antennas. Operating at ten times the height of the tallest U.S. Army tower system, the WASP system can significantly extend the range of communications in remote and austere locations. The soldier-operated systems can be rapidly configured to support a variety of mission requirements for days, weeks or months with customized payloads, including voice and data communications and day/night video.
The WASP system is capable of being deployed within minutes with up to 55 pounds of attached devices designed to do anything from survey, record or expand communication capabilities, all with only two or three soldiers requiring minimal training.
Jay Nussbaum, Chairman of Drone Aviation Holding Corp., stated, "The WASP's strong performance in the Enterprise Challenge earned it high marks for its enhanced mobility, versatility and ability to deliver cost effective real-time video and communications, making it an ideal system for the U.S. Army. Following our success at EC15, we have begun working with the customer to plan for future Army events and will continue to demonstrate the WASP's unique capabilities."
The WASP systems have also successfully completed operations in a series of Army Network Integration Experiments (NIEs) and have been recognized by the U.S. Army as a tactical battlefield solution that can support soldiers on the ground.