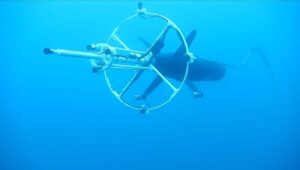 The NATO Centre for Maritime Research and Experimentation (CMRE) has announced that it has successfully demonstrated the use of unmanned systems for maritime surveillance, as part of the PERSEUS FP7 project. The PERSEUS project (Protection of European BoRders and Seas through the IntElligent Use of Surveillance) is coordinated by Spanish technological company Indra, and is a flagship R&D project in the maritime security segment within the European Commission.
Conventional surveillance technologies cannot easily detect fast boats, which generally have small radar signatures and do not carry automatic identification systems (AIS), and this was the impetus for the undertaking of the project by CMRE and its partners.
During the project, CMRE scientists and engineers worked to design, develop and demonstrate at sea concepts of continuous, real-time passive underwater acoustic systems for maritime surveillance. The objectives were successfully met by using innovative solutions integrated on board unmanned mobile platforms, both on an underwater glider (an autonomous underwater vehicle which uses shifts in mass to steer and changes in buoyancy to dive and surface) and a Wave Glider (an autonomous vehicle with a surface float and a submerged glider, generating forward movement by exploiting sea wave energy).
The embedded cutting-edge passive sonar surveillance system proved to be particularly effective due to its real-time continuous monitoring capability and the availability of several functionalities ranging from detection and localization to vessel classification. Furthermore, the platform/system combination has proven to be persistent and covert with wide area coverage and minimum environmental impact. Real-time detections and localizations have been made both on board the underwater glider and the Wave Glider, and the detection/tracking results have been disseminated to both CMRE and national control centers for display and further analysis.
Target classification algorithms were also applied successfully in near real-time during at-sea demonstrations. Adaptation of the Wave Glider for shallow coastal waters was tested by adding low-cost add-ons for above-water sensing, in the form of inexpensive daylight and thermal cameras, and radar detection devices. This technology may help to enable the detection of anomalous behaviours of marine traffic by fusing above-water and underwater imagery.
The CMRE claims to have been the first to demonstrate a complete system for underwater acoustic surveillance with mobile robots. In the future, these systems could be used within a network to continuously monitor maritime areas of interest.