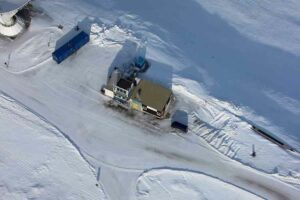 The Arctic Centre for Unmanned Aircraft (ASUF) has announced its official opening. ASUF is a national and international focal point in the use of unmanned aircraft for emergency preparedness, environmental monitoring and technology development in the Arctic. The centre will also contribute to increased safety in connection with commercial flights and ambulance, rescue and police operations.
ASUF is a partnership between Norut (Northern Research Institute), UiT The Arctic University of Norway and Lufttransport. The Director of the centre is Rune Storvold, a Senior Research Scientist at Norut.
ASUF offers education, training, research and operational services. The centre spans the entire value chain from education and basic research to innovation and commercial activities. ASUF develops communication systems, sensors and instruments, algorithmic and analytical tools and navigation and control systems, as well as testing new materials and adapting these for use in cold and extreme climates.
Unmanned aircraft are extremely well suited to operations in the Arctic, given the long distances and the unique weather, light and environmental conditions, as well as the increasing level of international commercial activity. It is anticipated that in the future, demand among various industries that operate in the Arctic will increase. Potential applications include environmental and climate research, avalanche monitoring, shipping, energy supply, tourism, petroleum and the seafood industry.
ASUF will connect research, innovation and business development through the training of personnel, the creation of new products and by being a driving force in industrial technology development.
A new three-year engineering programme linked to operations involving unmanned aircraft will be established at The Arctic University of Norway. The programme of professional study is designed to meet the needs of companies operating unmanned aircraft. The focus will be on basic remote sensing and photogrammetry, automation and electronics, as well as safety assessment and formal requirements. Subject to approval, the programme will start in the autumn semester of 2016 with space for 20 students.
The partners of ASUF will also contribute to the certification of pilots and unmanned aircraft.
The Civil Aviation Authority of Norway has approved three areas for testing: Tromsø, Målselv/Bardu and Ny-Ålesund in Svalbard. Through these facilities, ASUF will cover the Norwegian Sea, the Barents Sea and the Arctic Ocean towards the North Pole in terms of both research and emergency preparedness.
ASUF is the result of several years of knowledge-based development with funding and support from, among others:
Research Council of Norway, the NORDSATSING Initiative
Troms County Council, RDA
Innovation Norway Troms
Norwegian Computing Center