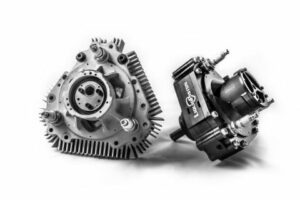 LiquidPiston, Inc., a developer of advanced combustion engine technology, has announced that the company has entered into an agreement with the U.S. Defense Advanced Research Projects Agency (DARPA) to advance the development of its highly efficient, power-dense rotary internal combustion engine for portable and small-engine applications.
Under this agreement, LiquidPiston's primary objective is to demonstrate a pathway towards a rotary JP-8 fueled engine that has the potential to reduce fuel consumption by 50% and to increase power density by threefold compared to today's conventional heavy-fuel piston engines. JP-8, or Jet Propellant 8, is a kerosene-based jet fuel used widely by the U.S. military.
The potential impacts of increasing military engine fuel efficiency are significant:
It could help save lives of soldiers who transport and protect fuel on the front lines and are subject to attack
It could help save money in fuel and transportation logistics costs
It could help extend mission times by allowing engine-powered equipment, like unmanned air vehicles (UAVs), to operate longer on the same amount of fuel
It could help lower the military's carbon footprint
Additionally, increasing military engine power density could enable lighter, more compact equipment designs, further enhancing operational range and payload capabilities.
Dr. Nikolay Shkolnik, LiquidPiston's Founder and CTO, and Co-Principal Investigator of this DARPA effort, explained: "Today's diesel/JP-8 engines and generators are extremely heavy. For example, a typical 3kW heavy-fuel generator weighs over 300 pounds, requiring six people to move it around. LiquidPiston's engine technology may enable a JP-8 generator of similar output weighing less than 30 pounds that could fit in a backpack."
The ultimate goal of the funded effort is to demonstrate a pathway to a heavy-fueled engine that could deliver above 50% average brake efficiency, 57% peak brake efficiency and high power density (>1 hp/lb), using a test-bed environment. Such efficiency would reduce fuel consumption by approximately one half compared to today's conventional piston engines. The effort will demonstrate key enabling components of the engine technology, as well as initial experiments with JP-8 fuel. As part of the agreement, LiquidPiston is investing 40% of the project costs.
Early LiquidPiston prototypes have validated the principles and confirmed compression ignition of diesel and JP-8 fuels. LiquidPiston has built 70-horsepower and 40-horsepower compression ignition heavy-fuel engine alpha prototypes, and recently unveiled a 70-cubic centimeter (3- to 5-horsepower) gasoline powered rotary four-stroke engine prototype, which would serve as the test platform for the work with DARPA.