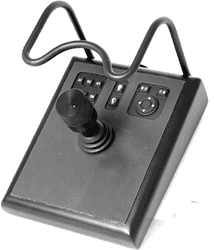 CTI Electronics, a manufacturer of industrial computer peripherals, has unveiled its new rugged, interoperable pilot/operator control module, the uHMI-Pod™ universal industrial joystick controller. The module features a future-safe technology design with standards-based interfaces, operating systems independence, and multi-platform adaptability.
The watertight sealing of the uHMI-Pod™ allows usage outdoors in extreme temperature and climate conditions. Its ergonomic design incorporates a non-corrosive, powder coated aluminum enclosure with cushioned closed foam for operator comfort. Elastomer protection from solid or liquid debris including oils, chemicals, and solvents is achieved by a specially formulated polyurethane coating. Protective shielding against electromagnetic interference as well as radio frequency signals was also incorporated. The stainless steel crash bar protects the joystick and doubles as a convenient carrying handle. The crash bar can be optionally replaced by a cable bar protector and the enclosure secured to a surface using the two stainless steel threaded inserts on the bottom plate.
A key design feature of the uHMI-Pod™ is flexibility in functionality. The joystick functions as a motion controller providing either absolute or relative positioning, with pin-point accuracy. Switch components can be reconfigured and/or reprogrammed to meet system level control requirements. Four, six, eight, or 12 switch functions, hat-switch, mouse, or keypad functions are available. Plug-and-play mission capability allows fast connect/disconnect from a tethered, shielded, removable cable that provides assurance against communication interference, signal blockage or disruption. Standards based USB and RS422/RS485 interfaces allow for compliance with STANAG 4586 or SAE AS5684A.
With the growing proliferation of UAVs, UGVs, USVs, and UUVs for military, commercial, and public sector applications, the uHMI-Pod™ modular design allows hundreds of possible combinations. Reusable from mission to mission, the uHMI-Pod™ is highly adaptable – examples of use include military operational missions, thwart detection and security protection, or surveillance of terrorist and/or criminal organizations. Its reliability is critical to first responders in law enforcement, firefighting, search and rescue, or humanitarian and disaster relief efforts, where early detection is crucial. Ruggedness and durability in the field is essential for inspections of roadways, bridges, power lines, gas pipelines, smoke stacks, building construction, or land surveys, GIS mapping, agriculture analysis, etc. Given the new FAA section 333 exemption, the applications for this robust versatile operator control module are now within a "visual line of sight".
Find suppliers of Joysticks, Controls & Switches.