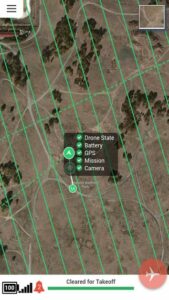 DroneDeploy, a start-up that provides cloud-based software solutions for commercial drone operations, has launched a new mobile app, providing users with a quick, easy push-button solution for automating drones and receiving real-time, reliable, detailed aerial maps and images. The company has also announced that, through a partnership with drone manufacturer DJI, its software is now offered on the DJI Phantom 2 Vision(+), making it available to a wider range of end users in agriculture, real estate, mining, construction and other commercial and consumer industries.
DroneDeploy's new mobile software lets users control drones and cameras while in flight, and is the first solution to process data, information and visuals in real-time.
"DroneDeploy has created a custom mobile application for the DJI Phantom 2 Vision(+) that provides a remarkable live mapping platform, autonomous flight, and aerial data capture capabilities," said Eric Cheng, General Manager, DJI San Francisco and Director of Aerial Imaging, DJI. "We are proud to partner with DroneDeploy, and are excited about the future of autonomous aerial imaging platforms."
Using the DroneDeploy application, farmers and agronomists can now quickly assess and diagnose crop health, detect field variations, categorize yield zones and analyze NDVI outputs for smarter farming decisions. Construction and mining operators can easily generate high-resolution 3D or digital elevation models of sites and structures, and analyze plan progress to eliminate inconsistencies.
"The introduction of our mobile application marks a first in the adoption of drones for commercial use. DroneDeploy makes it possible for users without any training to access and employ drone-based aerial imagery and mapping. Our mobile app is faster, more affordable, easier and more accessible than any other solution on the market today," said company co-founder and CEO, Mike Winn, "It provides users with anywhere, anytime access to a bird's eye view of land or work zones and delivers detailed information directly to mobile devices before drones even land — all capabilities that simply weren't available until now."