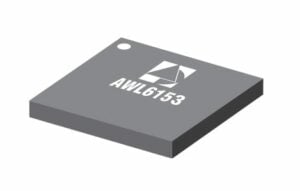 ANADIGICS, Inc., a manufacturer of radio frequency (RF) solutions, has announced that it has begun shipping production volume of its AWL6153 power amplifier (PA) in support of DJI's Phantom 2 Vision and Phantom 2 Vision+ drones. These feature-rich systems include a lightweight, multi-functional integrated aircraft and camera with advanced anti-vibration and stabilization capabilities. The Phantom 2 Vision and Phantom 2 Vision+ drones also include a range extender that increases WiFi distance to 300 meters and 700 meters, respectively. In both Phantom 2 Vision models, the drone and range extender each utilize two ANADIGICS AWL6153 power amplifiers for video transmission for a total of four PA devices per system.
"We are excited to be working closely with DJI to bring high-performance WiFi connectivity to the newest generation of advanced flying and camera stabilization systems," said Alex Miller, product marketing manager for WiFi Products at ANADIGICS. "Our WiFi power amplifiers are renowned for delivering exceptional gain, output power, and linearity, which are critical specifications for stable connectivity at extended range. The selection of our AWL6153 power amplifier for the DJI Phantom 2 Vision series of drones exemplifies not only our product performance advantages, but also our ability to deliver value into new market segments."
The AWL6153 is part of ANADIGICS' WiFi infrastructure power amplifier portfolio. It operates at 2.4 GHz and features excellent linearity, 30.5 dB of linear power gain, and less than 3% EVM at +25 dBm output power. This power amplifier also provides outstanding power efficiency and thermal performance enabling manufacturers to develop multi-power amplifier solutions that consume less power and are more thermally efficient. The AWL6153 is fully matched to 50 Ohms at both the RF input and output so no external matching circuits are required. It is offered in a compact 4 mm x 4 mm surface-mount package to manage heat dissipation while significantly reducing PCB space requirements.