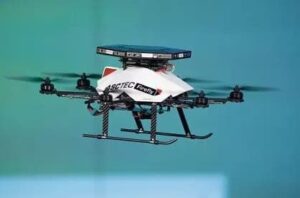 Ascending Technologies and Intel have signed a collaboration agreement to work together on developing collision avoidance technology and algorithms for unmanned aerial systems (UAVs), commonly known as drones, using Intel RealSense cameras and Ascending Technologies' AscTec Trinity auto pilot system. Intel has also become Ascending Technologies' first external investor and a minority shareholder.
The collaboration of the two companies was publicly announced by Brian Krzanich, CEO of Intel Corporation, during his keynote speech at the International CES® (Consumer Electronics Show) in Las Vegas. Krzanich discussed the growing possibilities for self-aware drones, including inspection of fields and power lines, monitoring endangered species, and even delivering goods or emergency medication. He reinforced that as drones become smart, they can see, react, and even move through the environment. To showcase this, Intel created an obstacle course inside the CES keynote ballroom and demonstrated AscTec Firefly multi-copter drones equipped with Intel RealSense cameras automatically flying through the course. Krzanich and the Ascending Technologies team demonstrated drones interacting in a swarm as well as collision avoidance and a fun interactive game of "drone pong".
"Intel RealSense technology can be used in a variety of innovative applications, including drone navigation," said Brian Krzanich, CEO, Intel Corporation. "We look forward to working with Ascending Technologies to integrate Intel technology into their solutions which will enable UAVs to see, react, and even move safely through the environment."
Intel's RealSense camera module, which weighs as little as 8 grams and is less than 4mm thick, brings depth perception to drones both indoors and outdoors with minimal impact to payload and flight times. Ascending Technologies' expertise with auto pilot, inertial sensor and fusion algorithms combined with Intel's RealSense camera module will bring a new level of intelligence and self-awareness to the drone ecosystem.
Ascending Technologies will use the obstacle avoidance technology jointly developed with Intel to add a new level of safety to their future products. Drone operators and businesses relying on drone services will largely benefit from the unprecedented simplicity and safety of drone operations close to obstacles using this new technology. Reliable obstacle avoidance will also open entirely new fields of drone applications such as automatic delivery of goods or emergency medication.
Daniel Gurdan, CEO and cofounder of Ascending Technologies, says: "Shortly after the introduction of the first triple redundant autopilot system for small UAVs, our AscTec Trinity, we are proud to have found a strong technology partner in Intel, which enables us to take a giant leap forward in safety and comfort in UAVs. Someday obstacle avoidance technology in UAVs will be like seatbelts in cars: You simply don't start going without it!"
The collaboration between Intel and Ascending Technologies will also help to bring high-quality engineered drone systems to a mass market.