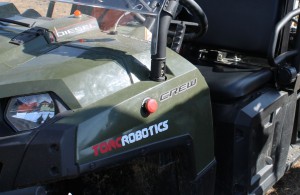 TORC Robotics, LLC, a provider of unmanned and autonomous ground vehicle solutions, has announced a Tele-Operated System specifically designed for the Polaris Diesel Crew vehicles.
The tele-operated system is a wireless robotic remote control system that incorporates a user-friendly and intuitive operator control that can be customized to meet the needs of the operator. Multiple camera options, including fixed, PTZ, EO/IR, thermal and low light options are available for full 360 degree awareness around the vehicle, eliminating any blind spots. The operator control unit (OCU) is matched to customer needs, and ranges from a belly box or rugged laptop to an exact replica of the vehicle's operator chair and controls. TORC's tele-op system has been integrated onto multiple Polaris vehicles, all of which have different missions and payloads that can be controlled remotely with the TORC robotic systems as well.
TORC has a proven track record of successfully integrating robotic systems and components onto many different vehicles used in several industries, including mining haul trucks and shovels, tractors, AITVs, automobiles, and now with the addition of the Polaris Diesel Crew, ATVs. TORC is also able to provide a tele-op system for any ground vehicle.