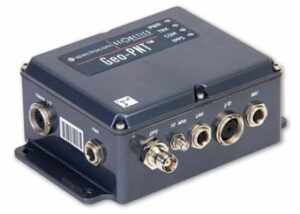 Spectracom, a provider of GNSS signal management solutions, along with its partner, Geodetics of San Diego, California, has announced a new combination master clock and GPS-aided inertial navigation system. The Geo-PNT is the first commercial device that integrates precision references for position, attitude, and timing all-in-one-box.
Geo-PNT will benefit any mobile ISR platform, as signal/electronic intelligence applications require precision positioning, navigation, and timing references. Electro-optic sensors and other imaging technologies, antenna steering, and encrypted communications always need a combination of precision motion compensation, geolocation, time stamping, and frequency reference.
The high degree of integration within the Geo-PNT supports the goals of low size, weight and power (SWaP) and cost optimization while achieving a high level of performance for ISR platforms and mobile communications systems. A single subsystem for all PNT functions in a volume of about 40 cubic inches is about 3 times less than the traditional approach of deploying dedicated devices.
The Geo-PNT is a highly configurable platform to provide the capabilities needed for ISR missions:
-Single box solution combining precision local oscillator, inertial motion unit (IMU) and GPS receiver
-Configurable output interfaces for timing and navigation
-Standalone or RTK/differential GPS, commercial (non-ITAR) or SAASM GPS receiver
-Choose from a variety of IMUs to meet performance specifications
-NTP server, precision 1PPS, 10 MHz with low phase noise
-Rugged and tested to MIL-STD-810G
-Low SWaP (< 0.7 liters, <0.8 Kg, <10 watts)
According to Spectracom's sales and marketing VP, Rohit Braggs, "Our time and frequency technology combined with Geodetics positioning and navigation capability in the same module provides an opportunity for platform designers to lower SWaP requirements while staying within the limits of today's demanding system specifications."
Geo-PNT is the latest example of Spectracom's highly flexible configure-to-COTS approach. The use of commercial technology reduces leadtime and offers the lowest cost of ownership for both standard and semi-custom configurations. Hardware and software can be easily adapted to meet the needs of the application.