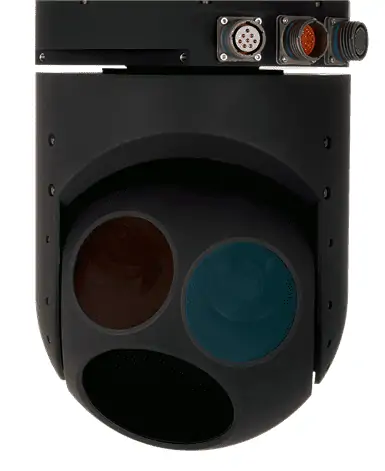 UTC Aerospace Systems (now Collins Aerospace) announces a new TASE500 camera system configuration.
This optimized system brings capabilities of much larger and heavier imaging payloads to the compact TASE500 10–inch, 25 -pound package. Compared to other 10-inch payloads, the TASE500 offers a 10-20 -pound weight savings with increased optical performance, making it the ideal choice where SWaP (size, weight and power) is paramount.
Together with the Sensors Unlimited Shortwave Infrared (SWIR) technology, the TASE500 system configuration provides enhanced visual capability seeing through dust, smoke and haze while not being affected by thermal cross-over or atmospheric disturbances.
The Cloud Cap Technology TASE500 payload provides the first all-HD imaging solution giving operators improved situational awareness, an all-digital imaging chain for maximized processing capability and an optimized lens design for enhanced object recognition. All TASE cameras offer a continuous zoom functionality which provides optimal field of view across all zoom levels. The system also includes the ViewPoint user interface software tool which provides Tactical PED (Processing Exploitation and Dissemination) giving operators the ability to multi task, record and disseminate critical data for use when needed.
John Trezza, vice president, ISR and Space systems stated, "This system meets the industry need for an all-HD, high-performing and best-value solution, for both commercial and military applications. We are thrilled to bring both best-in-class imaging payload and SWIR technology together into one powerful package."
UTC Aerospace Systems designs and produces the Cloud Cap Technology low-SWaP TASE family of imaging payloads; the industry-leading Piccolo autopilot flight management system for military and civil applications; and the Sensors Unlimited range of SWIR area and linescan cameras, focal plane arrays, microgimbals, lenses and accessories.