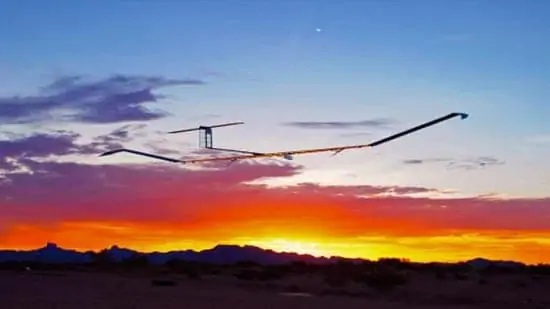 Airbus Defence and Space has launched the Zephyr 8 programme to develop the next generation of the world-record setting Zephyr 7 system, and has invited potential customers and partners to undertake joint in-flight demonstrations of their payloads and applications.
Zephyr is a High Altitude Pseudo-Satellite (HAPS). Running exclusively on solar power and flying at high altitudes above the weather and above conventional air traffic, it fills a capability gap between satellites and UAVs. Like no other means they allow focus on a specific area of interest (which can be hundreds of miles wide) while providing it with satellite-like communications and ISR (Intelligence, Surveillance & Reconnaissance) services over long periods of time without interruption.
Recognizing the excellent fit with Airbus' existing portfolio of space-based, airborne as well as terrestrial systems and services, the Airbus Group has been working on High Altitude Pseudo-Satellites (HAPS) since 2008. A cross-divisional "Nursery" project was created in which an integrated team of space and aviation experts has incubated a HAPS business addressing all its technical, commercial and regulatory aspects.
In 2013, this incubator acquired the assets of the "Zephyr" program which had originally been initiated in the UK and integrated all the key Zephyr staff into its HAPS organisation. The Zephyr programme successfully achieved several world records, including the longest flight duration without refuelling (14 days, that is ten times longer than any other aircraft in the world) as well as very high altitude flights (70,740ft).
Now an important part of the Airbus Unmanned Aerial Vehicle (UAV) business line, the Zephyr 7 vehicle underwent final testing last year before the design of a complete suite of improvements for its next generation vehicle, the new Airbus Zephyr 8.
"I am delighted with the progress," said Jens Federhen, Airbus HAPS Programme Manager. "We are now building the next generation of Airbus Zephyr that will allow customers to test payloads and applications. We are ready and look forward to demonstrating its unique capabilities to customers in flight."
"Zephyr 7 is demonstrably years ahead of any other HAPS system and we spent last year analysing and designing exactly what we need to improve it" explained Airbus Zephyr Technical Director, Chris Kelleher. "We received permissions to fly and have flown Zephyrs in Australia, USA and Europe, and now have a well-defined flight and safety procedure that has already been accepted by four major test ranges."
With the experience of UAVs, spacecraft, electronics, payload systems and secure communication available in the Zephyr team and Airbus Defence & Space, Federhen said that customers do not need to be worried about making payloads that are fit for the harsh stratospheric environment, "We can help them design, build and operate the payload if necessary, or provide a defined interface and then integrate the payload with the aircraft and fly it to test the payload, demonstrate the application and develop the flight procedures."