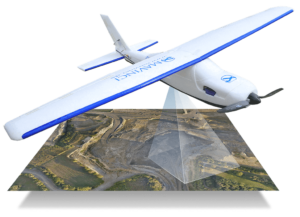 Topcon Positioning Group has announced the release and availability in Europe of the Topcon SIRIUS PRO powered by MAVinci, an Unmanned Aerial System (UAS) designed to produce the most accurate solutions for automated mapping of construction sites, pipelines, disaster areas, mines, quarries and myriad sites without regard to terrain.
During October 2013, Topcon Europe Positioning (TEP) entered into a strategic partnership with UAS provider MAVinci GmbH. The result of that partnership is the release of the fixed-wing UAS Topcon SIRIUS PRO powered by MAVinci.
"We are excited to announce our distribution agreement with Topcon. This partnership is the ideal expansion of our global distribution network," Johanna Claussen, CEO at MAVinci GmbH said. "The simple operation of our UAS from flight planning to the final orthophoto and DEM (Digital Elevation Model), allows flexible use in highly demanding environments. Its flexible assisted auto-pilot landing mode enables navigation around any unforeseen obstacles."
Based in St. Leon Rot, Germany, MAVinci is an innovative company dedicated to producing the highest quality solutions for aerial surveying. The company specialises in the development of UAS technology.
Sander Jongeleen, mobile mapping product manager for Topcon Positioning Group said "By adding Topcon's RTK solutions to the UAS and ground control station, the SIRIUS PRO is the first commercially available UAS that can reach 5cm accuracy without the need for ground control points. This leads to an enormous reduction of operational cost and allows mapping of areas that are not easily accessible with high accuracy."
The SIRIUS PRO is a fixed-wing UAS capable of producing high quality and pre-positioned aerial photography without the need of extensive ground control that is required by competitive products.
Key Features
Work in mountain areas – Flight plan adapts to elevation model

Cover areas that require multiple flights – Flight plan automatically splits and rejoins for post processing

Simple hand launch

Land in areas where automatic landing is impossible with assisted auto-pilot mode

Fly in all weather conditions – wind up to 50km/h, temperature range of -20ºC to 45ºC and rain