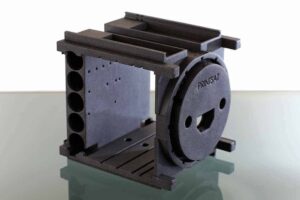 Creating a prototype is always a challenge, but CRP USA has greatly increased the capabilities of 3D Printing and Additive Manufacturing to make it easier with Windform materials.
Located in North Carolina, the heart of NASCAR country, CRP USA has manufactured on-car and wind tunnel components for racing teams, using additive manufacturing and 3D printing techniques with Windform materials. It has taken this expertise to new heights to produce parts for the space (Satellite and CubeSat structures), entertainment and automotive industries using its proprietary Windform® and additive manufacturing.
In 2013 Windform XT 2.0 and Windform LX 2.0 were used by Kentucky Space Center to create the CubeSat KySat-2 which was successfully launched into orbit. The project was carried out by CRP USA together with Kentucky Space Center and the University of Kentucky and Morehead State University. In November 2013 the CubeSat KySat-2 was launched into orbit as part of the NASA ElaNa IV mission out of Wallops Flight Facility in Virginia. There were several 3d printed components on the KySat-2 made by CRP USA with Windform XT 2.0. The 3d printed parts were produced using the additive manufacturing technology Selective Laser Sintering and Windform materials.
The additive manufactured process 3d printed the mounting hardware for the camera system, extensions for the separation switches, clips for holding the antennas in their stowed position, and the mounting bracket for the on board batteries. The process and the material were critical to achieve the right components for KySat-2.
Windform materials combine maximum toughness and robustness, yet produce extremely light parts. Utilizing the additive manufactured technology, Selective Laser Sintering (SLS), and Windform XT 2.0 material final parts for small productions can easily replace parts that are usually produced with traditional technology, or are otherwise impossible to create. This makes Windform a material that can stretch the limits of SLS applications, even in space applications.
Advantages of additive manufacturing and 3D printing with Windform® materials in space:
No design limitations. With Windform additive manufacturing and 3D printing, applications are no longer limited by design-for-manufacturing constraints
Complex parts production. Parts production and prototypes with undercuts, complex features and internal cavities are easily produced, either in one piece, or in multiple sections where required
Reduces product cycle times, lowers time to market and realizes ROI through reductions in production costs
Windform® produces finished beautiful parts that can additionally be plated or painted depending upon the application
CNC machine the Windform 3D-printed parts. There are industries such as space that require tight specifications. With CNC machining it is possible to bring tolerance down to hundredths of millimeter. Windform parts can be CNC machined with 5-axis milling centers and with lathes in order to have complex and highly accurate features
Speed up the production and save time. The combination of 3D printing and CNC machining leads to speed up the manufacturing process of the parts and save time. The additive manufacturing technology is much faster than designing and producing a tool for injection molding. Furthermore, 3D printing can give engineers more flexibility in the timeline to make design improvements.
Video of the launch of KySat-2: