The DiSTI Corporation, a pioneer of innovative and highly advanced graphical user interface software solutions, has received recognition for their GL Studio graphical development tool, having been selected for the Editor's Choice Award by Military Embedded Systems magazine. This award solidifies GL Studio's unique capabilities and features that allow developers to easily create the high fidelity avionic displays, virtual training systems, and automotive dashboards to meet the needs of today's military training and simulation systems.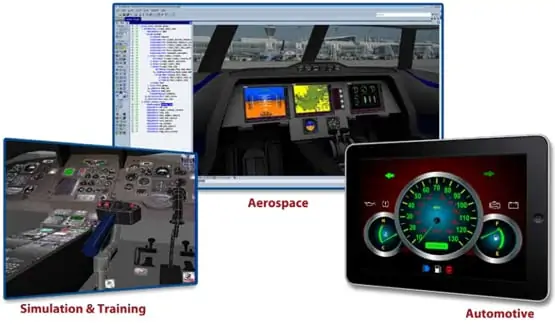 DiSTI's GL Studio is an award winning tool which enables developers to build high fidelity graphics and fully interactive controls into their software products, enhancing the level of realism and sophistication of their development efforts. Through its powerful, intuitive design, programmers in any industry can use GL Studio to create state-of-the-art, reusable 2D or 3D graphical user interfaces. A few of GL Studio's many benefits that were highlighted for this award include its ability to reduce production and training costs, improve learning and retention, and accelerate production cycles.
"We are thankful privileged to have GL Studio selected for the Editor's Choice Award for its advancements within the military embedded systems industry. DiSTI's GL Studio was developed out of the need for greater training solutions for military organizations. Even though GL Studio has quickly adapted to other markets and become a solution for the automotive, medical, and industrial industries, we have not forgotten what has brought GL Studio to such great success," said Joe Swinski, CEO of DiSTI.
GL Studio is now powered by the new Lumen runtime engine, delivering the features necessary for development through the next decade. Lumen allows GL Studio users to integrate their graphical content with DirectX based scene generators opening up deployment options beyond the standard OpenGL landscape. Lumen's enhancements for greater object animation control, advanced text capabilities, higher fidelity for rendering 3D models, and support for new graphics card features, allow UI developers to create interface content that replicates real world devices closer than ever before.