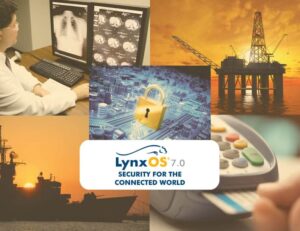 LynuxWorks™, Inc, a world leader in the embedded software market, today announced LynxOS® 7.0, the next generation of their most popular real-time operating system (RTOS) enabling embedded developers to add security functionality to their connected devices. The open standards-based LynxOS has been powering millions of embedded devices for the last 25 years across all industries and now adds significant new features to help meet the needs of the billions of next-generation connected devices.
Due to the ubiquity of the Internet, a network infrastructure is now in place for the "Internet of Things"—new world of tens of billions of connected devices. The majority of those devices are expected to be hubs and sensor nodes, collecting data and transmitting it from machine-to-machine (M2M). Application examples include aerospace and defense communication infrastructure, industrial automation, smart meters, fleet management, device monitoring, medical and patient monitoring and situational awareness.
With cyber threats being more sophisticated, and more of the critical infrastructure being controlled by these embedded devices, security protection will be required on each device rather than just relying on the network protection that is in place today.
In an April 2013 VDC Views article titled Operating System Security is Critical to M2M Devices, Jared Weiner, senior analyst for VDC Research stated, "… [security] has become increasingly important as more devices are equipped with 'smart' functionality." Weiner added, "Security is among the operating system selection criteria with the greatest momentum. As the challenges of addressing security risks evolve, it is increasingly important to guard against threats at the operating system level. Operating systems for next-generation connected devices must provide support for secure communication by enabling security technologies such as authentication and encryption. Through their domain expertise and industry partnerships, operating system vendors are well positioned to play the role of trusted advisors while OEMs work toward implementing a formal security initiative."
"We believe that LynuxWorks is raising the bar for security in embedded devices. With the latest release of its LynxSecure hypervisor, and now with the security features built into the latest version of LynxOS, they are helping embedded developers build truly secure connected devices," Weiner concluded.
LynxOS 7.0 provides the ability for developers to embed military-grade security directly into their devices by utilizing features such as access control lists, audit, quotas, local trusted path, account management, trusted menu manager and OpenPAM. It also contains networking support for long haul networks with TCP/IPV4, IPV6, 2G/3G/4G cellular and WiMax communication stacks. It also supports the short-haul networks common with M2M applications such as 802.11 WiFi, ZigBee wireless mesh and BlueTooth.
"LynxOS is already in millions of devices and this new functionality allows both existing and new customers to bring security to the forefront," said Robert Day the VP of Sales and Marketing for LynuxWorks, Inc. "We expect all our embedded market segments, from military and aerospace to industrial, medical and office automation, to benefit from the security and networking improvements in this next generation of LynxOS."
In many market segments, a more advanced communication mechanism will be required to offer extremely low latency, high throughput and high availability for application-to-application communications to help satisfy demanding real-time Quality of Service (QoS) requirements. LynuxWorks partners with key middleware providers such as Real-Time Innovations, Inc. (RTI) to offer these advanced middleware products ported on the LynxOS operating system.
"We believe that the combination of LynxOS 7.0 with its advanced security features, and RTI Connext middleware based on the Data Distribution Service (DDS) standard, offer a compelling solution for building real-time connected embedded devices," said David Barnett, vice president, Products and Markets for RTI. "For our customers in aerospace and defense, industrial and medical markets, our joint solution meets their security, real-time, high-throughput and high-availability need—all based on open standards."