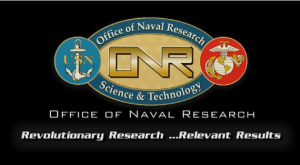 The Office of Naval Research (ONR) has developed something similar to a master remote control for military ground, air and undersea unmanned systems that will work across the services, as outlined in a new video released, May 2.
This Office of the Secretary of Defense (OSD) prescribed data model is a piece of software that enabled development of the Common Control System, which is comprised of many different common control services.
The Unmanned Aerial Systems (UAS) Control Segment (UCS) software can be added to any unmanned system to enable it to communicate and work with any other. It will run on any type of platform or hardware, and it can overlay existing systems running on propriety software to make them work with any others.
The groundbreaking UCS-2, or Universal Character Set, computer code-based software acts as a gateway that allows the warfighter to control an entire unmanned system, from the vehicle itself to its payload. The various services within the Common Control System are now available for download by all of the military services through an OSD-sponsored online "store."
Watch the video about the Common Control System:

"Some day in the near future you'll have a Sailor controlling an Air Force unit's unmanned system, or an Airman sitting at a desk controlling a naval unmanned system or a Marine controlling an Army platform," said Chief of Naval Research Rear Adm. Matthew Klunder. "That's the kind of ability we will have with this new Common Control System-that's our future."
Historically, unmanned systems have been developed and fielded as individual items built by different vendors, which has led to increased spending, from $284 million in 2002 to more than $3 billion in fiscal year 2010. They are all uniquely controlled by proprietary software created by numerous vendors, and the data they provide is sent out in unique formats, making it very difficult to control various systems with one master control or sift through all of the information being transmitted.
The common controller will change this and allow systems to work with one another. Getting rid of custom-built components and systems will simplify the systems themselves, as well as purchasing and training processes, thereby reducing costs.
"This opens the aperture for a much wider and more rapid generation of newer technologies and capabilities and for all vendors, including small businesses, to be able to compete for those capabilities," said Dr. Bobby Junker, who heads ONR's Command, Control, Communications, Computers, Intelligence, Surveillance and Reconnaissance department. "This is bringing back that entrepreneurial spirit that used to be there with unmanned systems."
Additionally, all of the data captured by the systems will be saved in a cloud environment that is transparent across the military and easily accessible to and quickly navigable by all service members.
"This is all about transparency of data and services across all networks-making data available as transparently as possible to warfighters," said Junker.
Making data available quickly is crucial for faster information gathering.
"In the future battle space, I think we're going to see a lot of unmanned systems in all domains-air, ground, sea and undersea-being used to feed the intelligence community, provide information to the tactical warfighter and act as a virtual wingman," Klunder said.
ONR is working with the OSD's Office of Strategic and Tactical Systems, Naval Air Systems Command, Naval Undersea Warfare Center, Program Executive Office (PEO) Integrated Warfare Systems and PEO Unmanned Aviation and Strike Weapons on this software.
Testing and experimentation were conducted in 2012. ONR validated that UCS can be used to develop common control services that provide total functionality for a particular Common Control System, the Bi-Directional Remote Video Terminal (BDRVT). As a result, ONR was able to provide OSD with a blueprint for all military services to be able to build a BDRVT using UCS-developed common control services.
ONR provides the science and technology necessary to maintain the Navy and Marine Corps' technological advantage. Through its affiliates, ONR is a leader in science and technology with engagement in 50 states, 70 countries, 1,035 institutions of higher learning and 914 industry partners. ONR employs approximately 1,400 people, comprising uniformed, civilian and contract personnel, with additional employees at the Naval Research Lab in Washington, D.C.
Source: U.S. Navy