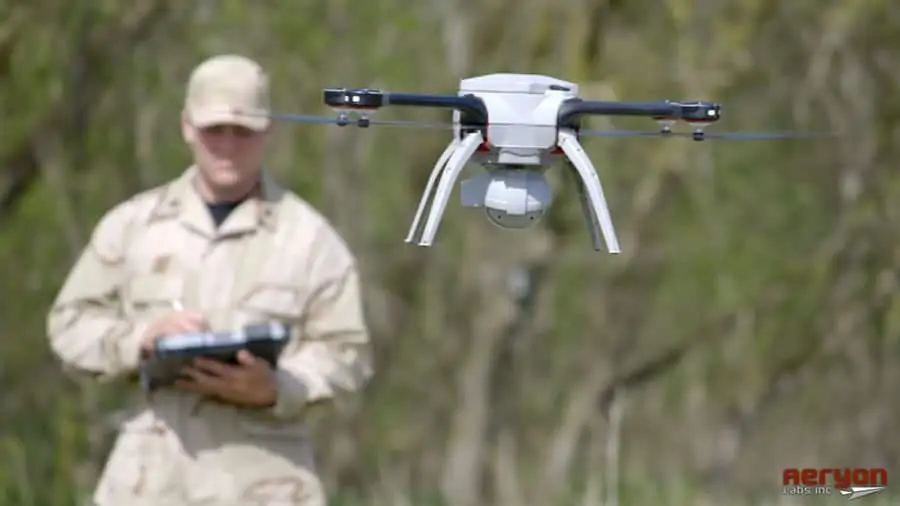 Aeryon Labs has launched the Aeryon SkyRanger™ small Unmanned Aerial System (sUAS). This new Vertical Take-Off and Landing (VTOL) system features an all-new airframe and integrated design, and represents a significant leap forward in capabilities for military, public safety, and commercial applications. With the completion of extensive field testing and first customer trials, the Aeryon SkyRanger is now available for further demonstrations and orders – with priority to military and government customers worldwide.
First introduced in 2009, Aeryon sUAS are regularly at the center of major world events and international media stories due to their reputation and proven track record for immediate, reliable operation in high winds and harsh weather environments – often when other UAS or manned aircraft cannot safely operate.
Designed as software and payload platforms, Aeryon sUAS also provide advanced features and capabilities including an intuitive touchscreen interface that provides simple point-and-click navigation and camera control, and seamless automated functions and safety features.
The Aeryon SkyRanger™ brings new capabilities to the field-tested and battle-proven Aeryon sUAS platform, which has seen continuous development and innovation since the Aeryon Scout™ was launched in 2009.
"The Aeryon sUAS platform is the most mature, reliable, and capable system available on the market. With the Aeryon SkyRanger, we are again setting a new benchmark for system reliability and integration, flight endurance and performance, and advanced functionality while maintaining operator ease-of-use" said Dave Kroetsch, Aeryon's President. "The Aeryon Scout remains an important part of our product line – a high performance system at an attractive price point for public safety and commercial customers."
Like the Aeryon Scout™, SkyRanger™ is a VTOL sUAS – ideal for providing continuous eyes-on-target for situational awareness, operations in confined environments, and low-risk launch and retrieval without peripheral equipment. SkyRanger™ is ideally suited for both land and maritime military use including covert ISR, convoy and compound security, and ship boarding operations.
Video – Aeryon Skyranger in Flight:
Key features of the Aeryon SkyRanger™ include:
Up to 50-minute endurance with payload – continuous operation model
Immediate pre-assembled deployment – folding design includes battery & payload for powered standby, and easy field component replacement in seconds, without tools
Advanced optics and networking – stabilized, simultaneously streaming dual EO/IR cameras; low-latency digital 256bit encrypted network with extensible range beyond 5km
EO camera: 1080p30 HD H.264 video, 15MP still images
IR camera: 640×480 H.264 video and still images, white-hot/black-hot modes
High wind tolerance – 40mph (65kph) sustained, 55mph (90kph) gusts
Ruggedized and weather-sealed – extreme weather environments, operating temperature range from -22 to 122F (-30 to 50C)
Single-operator touchscreen interface – point-and-click control, dynamic flight planning
The SkyRanger will be showcased at a series of international tradeshows and exclusive events throughout the year, starting with CANSEC 2013 (booth #929) in Ottawa, Canada May 29-30.
More product information, images, and video are available at SkyRanger.com