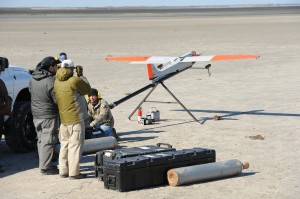 Texas A&M University-Corpus Christi (TAMUCC) will conduct the first mission over the Gulf of Mexico with their unmanned aircraft from Monday, March 11, through Friday, March 15.
The unmanned aircraft will acquire data over the Gulf and South Texas ranchland as part of their search for new applications of unmanned aerial technology. During the mission, the University's RS-16 unmanned aerial vehicle (UAV) will carry onboard a multi-spectral camera which will acquire images in the visible, infrared (IR), and ultraviolet (UV) frequency ranges. Among other applications, this data will be used in a study of algae distribution along the Texas coast by the University's Center for Coastal Studies. This is one of the many coastal and marine science applications for unmanned aerial systems (UAS) technology.
"There is not much research in the UAS field including a maritime environment," said Dr. David Bridges , Director of the Unmanned Aircraft Systems Initiative in the College of Science & Engineering. "The high-definition images can help track algal blooms, hurricanes, harmful pollutants, and serve a variety of other purposes over land and water."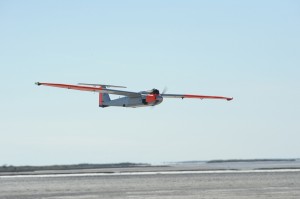 Bridges says these missions will also test one of the potential safety issues associated with the expansion of UAS technology to the public: the integration of manned and unmanned aircraft. During the missions over the Gulf, the UAV will launch from one command post, fly out of sight of ground observers, and will be monitored by a manned aircraft until it reaches a second command post that will fly it over Gulf waters. The operations will also include observations of water and land interface, wildlife and herd count, mapping of sea grass and salt marsh communities, and oil pipeline tracking.
"These missions will prove the diverse directions UAS projects can take," said Dr. L.D. Chen , Associate Dean for Research in the College of Science & Engineering. "In cooperation with private-sector industries and government agencies, UAS can create solutions to issues in various industries around the country."
The University missions will be flown in airspace certified by the FAA for unmanned aircraft operations at less than 3,000 feet near the Intracoastal Waterway, south of Baffin Bay. The certified air space also includes significant portions of the Padre Island National Seashore and Gulf of Mexico coastal waters where previous missions have been performed. RS-16 manufacturer American Aerospace Advisors Inc. (AAAI) will collaborate in various aspects of the aircraft's operations, including ground-crew activities and the roles of mission commander and observer.
"Our private-sector partner is expanding our research to include the two ground control stations," said Bridges. "Their support is making it possible for us to find out the true potential of our UAV."
The missions come at a critical moment as Texas A&M-Corpus Christi leads a statewide effort to persuade the Federal Aviation Administration (FAA) to designate Texas as a test range for technologies that will allow large and small unmanned aircraft to operate safely in the national air space.
"This new aerial technology has potential to be a game-changer, saving lives and protecting precious resources, not only here, but throughout the country," said Texas A&M System Chancellor John Sharp . "The Texas A&M System is proud to be a part of this innovation."
Dr. Luis Cifuentes , University Vice President for Research, Commercialization and Outreach, said research was but one piece of a complex effort. "We call it the Lone Star UAS Initiative," Cifuentes said. "We're not the only state in this hunt. There are at least 40 others. To be competitive, we will need all of the pieces working together – education and training, industrial, military, research, governmental and political."
University President Flavius Killebrew said, "UAS research and development promises to be what some are calling the next ' Kitty Hawk moment' in aviation history. For the sake of our economic growth, Texas must be a player."
About the UAV: AAAI RS-16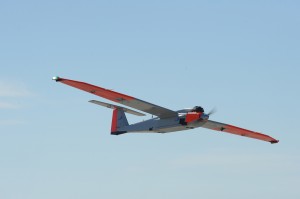 Airframe manufactured by Arcturus, system integration by AAAI
Wingspan: 12 feet 11 inches
Max take-off weight: 85 pounds
Max speed: 65 knots
Max payload weight: 25 pounds
Max endurance: 12-16 hours