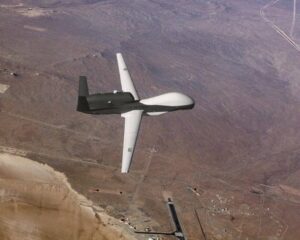 Japan and the United States are looking to jointly use facilities at Andersen Air Force Base (AAFB) in Guam to boost surveillance by unmanned reconnaissance aircraft in the Western Pacific to counter China's growing military might, sources said Wednesday.
The move reflects the U.S. military goal to make Guam a key strategic hub for the Asia-Pacific region and its desire for Japan's cooperation to better monitor Chinese military activities, the sources said.
The U.S. military and the Self-Defense Forces plan to jointly use maintenance facilities and hangars as well as equipment for remote control of unmanned drones as part of cost-cutting measures amid both countries' fiscal constraints, according to the sources.
The U.S. forces are operating three Global Hawk planes on Guam. Unlike the Predator spy drone, the Global Hawk does not have attack capability.
The SDF will introduce and deploy the aircraft on Guam, the sources said. Tokyo plans to buy several unmanned spy drones by fiscal 2020 at the latest.
In the long run, Japan and the United States aim to make it possible to jointly use data gathered and analyzed by the drones, the sources said.
Although the SDF keeps watch over the Chinese military's operations in waters around Japan, including in the East China Sea, mainly by P-3C patrol aircraft, Tokyo and Washington, seeing the need to step up to Beijing's increasing maritime assertiveness, plan to join hands to deal with the situation.
The Triton — the new and improved version of the Global Hawk — is being readied for deployment on Guam by the U.S. military.
Source: Japan Times