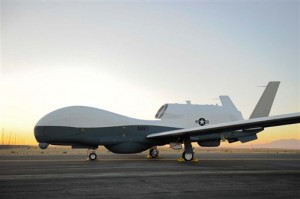 The Defence Force is quietly resurrecting plans to buy seven huge maritime surveillance spy drones at a cost of up to $3 billion.
The unmanned aerial vehicles will be used for maritime surveillance and intercepting asylum seeker boats.
The decision comes despite claims that the Royal Australian Air Force's top commanders have long opposed the acquisition of unmanned aerial vehicles because they will put pilots out of a job and threaten RAAF culture.
The $200 million Northrop Grumman RQ-4 Global Hawk reconnaissance drone is the largest, most expensive unmanned aerial vehicle in the world today.
Its vast wingspan of 39.8 metres can lift the craft to 65,000 feet and stay airborne for 35 hours with a non-stop range of 16,000 kilometres – eclipsing the endurance of similar manned aircraft.
In 2004, the Howard government was so impressed with Global Hawk that plans were announced to buy a fleet of 12 of the spy drones for $1 billion.
But in 2009 the acquisition was cancelled by Labor's Joel Fitzgibbon, who was defence minister at the time.
In May 2010, Opposition Leader Tony Abbott announced a Coalition government would buy three Global Hawks.
Despite this erratic political flight path, the idea of Australian Global Hawks remained in bureaucratic mothballs until July this year, when the latest Defence Capability Plan was quietly released.
Buried in the document were plans to bring forward by three years the acquisition of "high altitude, long endurance" unmanned aerial vehicles (UAVs).
The RAAF now wants seven large UAVs flying by 2019.
The favoured option is a new, maritime surveillance version of the Global Hawk – the MQ4C Triton.
The estimated cost of the project is between $2 billion and $3 billion.
Triton had a shaky take-off in June 2012, when a demonstration version of the maritime drone crashed just three days before the official unveiling ceremony at Northrop Grumman's Californian factory.
A company spokesman insists the demonstrator that went down was an old, worn-out Global Hawk, bearing little resemblance to the new, improved Triton.
When it takes to the skies for the first time later this year, Triton will appear to be a slightly larger version of its cousin, Global Hawk.
However, leading American intelligence analyst and author Matthew Aid says they are two very different drones.
"Global Hawk was designed for pin-point imagery or eavesdropping on land targets, by over flight, or by flying obliquely up to 450 kilometres off an enemy's coastline," he said.
"Triton was designed for broad area maritime surveillance – following ships from high altitude."
The US Navy expects to start flying the first of 68 Tritons on order by 2015.
Some will be based on the US territory of Guam to cover the Asia-Pacific region, while another detachment will fly out of Diego Garcia to monitor the Indian Ocean.
In March, the Washington Post reported that the US is also considering basing Global Hawk/Triton on Australia's Cocos Islands.
The US Navy claims a single Triton 24-hour surveillance mission can cover nearly 7 million square kilometres of ocean – identifying every vessel in one vast sweep of the ocean.
But Mr Aid remains unimpressed.
"Triton does not have anywhere near the range or payload capability of the Global Hawk, and from what I can gather its imaging sensors are nowhere near as good," he said.
The Royal Australian Air Force now wants Triton to support a new generation of manned maritime patrol aircraft, the P-8A, which looks like a converted 737 airliner.
Together, these two systems will replace the RAAF's aging fleet of P3 Orions that have spent decades patrolling the vast expanse of ocean surrounding Australia – about 20 per cent of the world's sea surface.
Capable of being armed with both missiles and torpedos, the 8 P8 Poseidons already on order will also be capable of anti-submarine warfare.
But is Global Hawk/Triton worth the hefty price tag of at least $200 million each?
Andrew Davies of the Canberra-based Australian Strategic Policy Institute is not so sure.
"That's still a question to be answered. It can fly high and fast, but is really expensive. Each UAV plus ground support systems costs about $200 million each – you can buy a P8 for that," he said.
"So they're not cheap. The question is can you do the job with a cheaper UAV?
"The Mariner is the maritime version of the Reaper (flown in Afghanistan and Pakistan). It flies slower and lower which can be a good thing as it can drop down and take a closer look at asylum boats for instance, with decks covered by tarps.
"The Mariner is much cheaper, priced in the tens of millions."
In 2006 the Mariner was put through its paces in a trial off Australia's North West Shelf.
Mariner supporters say it offers 80 per cent of the capability of a Triton for one-tenth of the cost.
That is a powerful argument in Canberra these days, where the Defence budget has just been slashed by $5.5 billion.
Unlike the high flying unarmed Triton, the Mariner is also designed to carry missiles.
Mr Davies says low cost and an armed capability will be a big plus when flying into regional uncertainty.
"It's about the Indian Ocean and securing our sea lanes," he said.
"In the Indian Ocean we see growing competition between the navies of China, India and the US. US attention is now pivoting towards this part of the world."
Other experts argue there is a far more urgent, humanitarian task to perform – border protection.
As Australia's refugee boat crisis escalates and with the Navy reportedly stretched to breaking point intercepting asylum seekers, drones could provide a timely solution in saving more lives.
Kym Bergmann, the editor of Asia Pacific Defence Reporter and a former defence industry executive who worked on UAV projects, says Global Hawk should have been in Australian service years ago.
He claims this did not happen because RAAF pilots feared UAVs would threaten their jobs and traditions.
"Early in 2008 the new Labor [Defence] Minister [Joel Fitzgibbon] had some sort of brain snap and made a very dramatic announcement to the effect that the acquisition of Global Hawk was going to be deferred for a decade," he said.
"At the time as a relatively inexperienced minister, he was stampeded by some of the advice that was coming from the Air Force in particular.
"It was because [the RAAF] really preferred the idea of having a manned aircraft.
"It's because a manned aircraft is flown by guys with moustaches and flying allowances, rather than being operated by hyper intelligent nerds sitting in front of computer terminals, which is essentially how you operate a Global Hawk."
Mr Bergmann claims the RAAF senior commanders dropped their opposition to Global Hawk/Triton only after they were promised the P8 planes that still need pilots to fly them.
"It's been quite a dramatic conversion. They've now become enthusiasts for the technology, when in fact for the previous decade they'd done everything that they could to resist it," he said.
He says Australia urgently needs a maritime UAV capability and that Global Hawk/Triton is the drone for the job.
"It's highly likely that we're going to see more asylum seekers coming to Australia, there's going to be the possibility of increased transnational crime, there's going to be the possibility of increased illegal activities," he said.
"The high-resolution cameras and synthetic aperture radars mean that from an altitude of 60,000 feet at a distance of several hundred kilometres, you can use both your radar and your camera to give you crystal clear imagery right down to very, very small boats.
"You can really get down to rowing boat sizes. The quality of the imagery is quite phenomenal."
A growing number of younger RAAF officers now enthusiastically endorse a rapid expansion of the drone fleet.
Since 2009 the Air Force has been flying leased, Israeli-owned Heron surveillance drones in support of Australian troops in Afghanistan.
Displaying the zeal of a convert, Wing Commander Jonathan McMullan, an RAAF pilot-turned-drone commander, recently returned from Afghanistan, declared: "The capability? It's like crack cocaine, a drug for our guys involved."
Tonight on ABC1, Foreign Correspondent sounds the alarm on the swarms of private and government drones gathering in American skies and surely bound for the rest of the world.
Some of the drones have live streaming cameras and the ability to carry other payloads, and tens of thousands of them are expected to take to the sky.
But who's at the controls? Potentially anybody.
Source: RadioAustralia