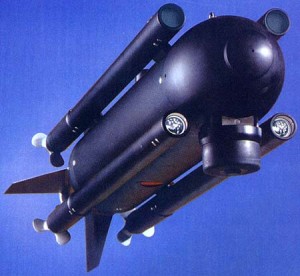 The U.S. Navy has deployed a fleet of unmanned submarines to the Persian Gulf to help find and destroy sea mines as part of an American military buildup aimed at stopping Iran from closing the strategic Strait of Hormuz in the event of a crisis, U.S. officials said.
Only 88 pounds and 4 feet long, the unmanned, remotely guided submersibles carry a TV camera, homing sonar and an explosive charge for what amounts to a kamikaze mission: When it detects a mine, the undersea craft obliterates itself as well as the mine.
The Navy bought dozens of the little-known German-made devices, known as the SeaFox, in February after an urgent request by Marine Gen. James Mattis, the top U.S. commander in the Middle East, for more minesweeping capabilities in the region, officials said.
The first drones began arriving in recent weeks as the latest round of negotiations with Iran over its disputed nuclear development program appears to have stalled. Renewed diplomatic talks between Iran and the five permanent members of the United Nations Security Council plus Germany have failed to achieve a breakthrough or lessen tensions.
Some U.S. officials worry that Iran may respond to the West's tightening sanctions on its banking and energy sectors, including a European Union oil embargo, by launching or sponsoring attacks on vulnerable oil tankers or platforms in or near the crucial strait.
Source: LA Times