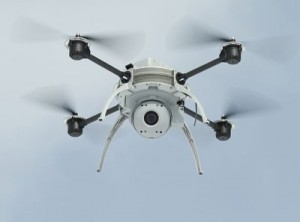 The global military video surveillance systems market will be worth US$8.81 billion this year, as the development of advanced motion-imagery capabilities used to support intelligence, surveillance and reconnaissance (ISR) missions has increased substantially in recent years, according to a new Visiongain report.
The report, entitled The Military Video Surveillance Systems Market 2012-2022: Full Motion Video for ISR, says that greater access to unmanned systems has led to higher demand for, and rapid development of, ISR systems.
Visiongain said that full-motion video has come to play an indispensable role in the all-source intelligence blend available to military decision-makers. Analysing the increasingly large volume of video data that is being generated by a wide range of sensors mounted on a variety of platforms is a considerable challenge faced by defence ministries around the world.
Video data-management systems need to bring clarity to raw data by generating critical information, improve the efficiency with which that data can then be analysed, and facilitate the dissemination of this vital intelligence to all those that need it. However, these activities are not without challenges, as military bandwidth will become further strained by the high volumes of video data and control signals for unmanned platforms, Visiongain said.
Many of these video surveillance payloads are mounted on unmanned aerial vehicles (UAVs). The Teal Group earlier this year predicted that the UAV payload market will be worth US$2.7 billion this year and will increase to US$6 billion in 2021. The UAV electronics market will grow steadily, with the fastest growth and opportunities in Synthetic Aperture Radar and Signals Intelligence/Electronic Warfare (SIGINT/EW), according to Dr. David Rockwell, an author of the Teal study.
"Few now question that ISR is 'the centerpiece of our global war on terrorism', with production beginning for major endurance UAV systems such as MP-RTIP, new development programs such as wide angle electro-optical/infrared systems, a variety of ground and foliage-penetrating radars and an ongoing 'sensor drift' as more sophisticated non-EO sensors are developed for smaller and smaller UAVs.
"Overall, UAV SIGINT and EW markets will see a massive 20.2% CAGR (Compound Annual Growth Rate) from FY12 to FY17," Rockwell said.
The Teal Group also predicted that the global UAV market will be worth US$89 billion over the next decade as UAVs continue to be the most dynamic growth sector of the world aerospace industry this decade. The group added that it expects UAV spending to almost double over the next decade from current worldwide UAV expenditures of US$6.6 billion annually to US$11.4 billion, totalling just over US$89 billion in the next ten years.
"The UAV market will continue to be strong despite cuts in defence spending," said Philip Finnegan, Teal Group's director of corporate analysis and an author of the study. "UAVs have proved their value in Iraq, Afghanistan and Pakistan and will continue to be a high priority for militaries in the United States and worldwide."
"The Teal Group study predicts that the US will account for 62% of the worldwide RDT&E spending on UAV technology over the next decade, and 55% of the procurement," said Teal Group senior analyst Steve Zaloga, another author of the study.
Source: DefenceWeb