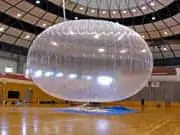 The Japan Aerospace Exploration Agency will attempt to send an unmanned scientific balloon to a world-record-breaking altitude of around 55 km.
The state-backed JAXA will launch the ultrathin balloon from its aerospace research field in Taiki in Hokkaido in September, it said Wednesday.
In 2002, the agency set a world record by sending an earlier type of balloon to an altitude of some 53 km from its launchpad in Ofunato, Iwate Prefecture.
The upcoming test is the agency's fifth attempt to rewrite the record with its latest type of balloon.
The altitude of 55 km is in the lower part of the mesosphere, the layer of the Earth's atmosphere that is above the stratosphere and extends from about 50 to 90 km.
If the balloon bid succeeds, it could pave the way for cheaper and longer observations of the upper atmosphere, currently only reachable by rockets.
Its predecessor was made of 3.4-micrometer-thick polyethylene film inflated with 60,000 cu. meters of helium.
Although they use lighter 2.8-micrometer film, the new balloons previously ruptured in the air, probably due to being touched by staff while still on the ground, according to Tetsuya Yoshida at JAXA.
For an attempt last September, the upper part of the balloon was double-layered and the amount of helium was increased to some 80,000 cu. meters to boost buoyancy.
But the balloon came down when the timer of a device used to deflate it after the test malfunctioned.
For the upcoming trial, JAXA will aim to ensure there are no flaws with the timer or other control equipment.
Radiation-testing drone
The Japan Aerospace Exploration Agency said Wednesday it will develop a small unmanned drone to measure radiation levels in areas around Tokyo Electric Power Co.'s disaster-hit Fukushima No. 1 nuclear power plant.
Based on a request from the Japan Atomic Energy Agency, test flights of the drone are set to be conducted in the town of Taiki in Hokkaido, from October.
JAXA hopes to fly the drone in evacuation zones around the Tepco plant by fiscal 2014 to measure radiation levels in detail there.
The fuselage, which is 2.6 meters long and 4.2 meters wide, and weighs some 50 kg, has already been developed under a different project. The vehicle will fly at altitudes of 150 to 250 meters.
Source: The Japan Times