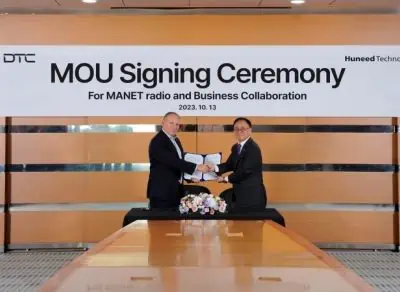 Domo Tactical Communications (DTC) has signed a Memorandum of Understanding (MoU) with Huneed Technologies, a global developer of airborne and defense communication systems.
The company has also received an order to deliver its MANET mobile radio solution to Korean forces. 
DTC and Huneed together plan to develop a cutting edge, ad-hoc network solution that can enhance operational performance and warfighter survivability in future battlefield situations for militaries around the world.
This global partnership will rapidly advance this state-of-the-art technology in environments and terrain where communications might be restricted.
At present, DTC supplies a wide range of communication systems to military and police forces in over 18 NATO countries, including the United States. Huneed is a supplier of High Capacity Trunk Radio System (HCTRS) to the Korean Army.
Ad-hoc technology can maintain a self-contained mesh network by utilizing the equipment carried by warfighters and unmanned aircrafts as nodes. This instantaneous network can provide a variety of tactical advantages in rugged terrain and environments. It also eliminates the need to set up or move fixed communications infrastructure, saving time, money, and manpower.
Huneed's airborne drone assets will work alongside its future network solutions to provide both manned and unmanned combat systems. Under shared situational awareness, Huneed's solutions will enable the effective application of ISR information gathered by drone systems to mission performance.
Additionally, the company was recently selected as a contractor to provide video transmission equipment to the Army Special Forces for counterterror and CWMD operations. It will provide network solutions with ad-hoc technology to the Korean military. The next-gen network technology is expected to be available for Korean military operations in the near future.
"Modern combat zones are becoming increasingly dynamic and require advanced operational capabilities to ensure enhanced situational awareness and connectivity in challenging operational environments," said DTC President Paul Sangster. "We see this collaboration with Huneed as an opportunity to bring our technology together to enhance battlefield operations and connectivity for the warfighter, and we look forward to working with the company that has been advancing tactical communications within Korea for more than half a century."
"Huneed has strived to ensure the survivability of our soldiers in modern battlefields since its foundation, and it will continue to do so in the present. We look forward to working with DTC to develop and bring to market an advanced ad-hoc system that will be ideal for a wide range of military and defense situations," said Huneed Chairman Eugene Kim.