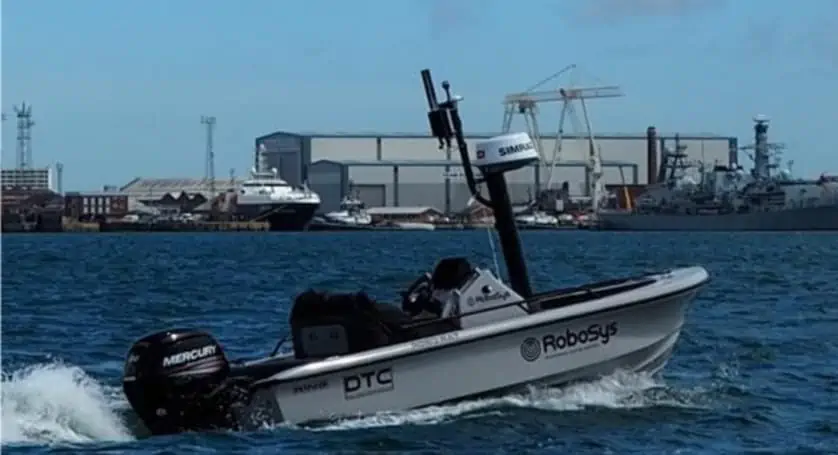 Domo Tactical Communications (DTC) has supplied its RF mesh radio solutions to create an encrypted communications link for a demonstration USV (unmanned surface vessel) developed by Robosys Automation.
The vessel, built in close collaboration with DTC as well as Ring Powercraft and Ambex Marine, is designed to showcase Robosys' latest Voyager intelligent autopilot software for commercial and recreational vessels. It is based on RoboRat, a small USV developed by Ring for inshore reconnaissance and survey. Fitted with SIMRAD navigational equipment and specialist electronics by Ambex Marine, the RoboRat uses DTC's encrypted RF communications link for remote piloting and live data streaming for analysis and evaluation.
The Voyager software takes information from the onboard chart system, radar, AIS and imagery to plan and execute a safe route entirely in accordance with COLREGS collision regulations. It can be calibrated to support any power-driven vessel of any size.
The current testing program is focused on optimising the system in busy and confined waters on a small platform. Later this year, Robosys will be installing Voyager on two much larger ocean-going vessels for similar trials in a variety of environmental and operating conditions.
Nigel Lee, Vice President of Sales for Europe, Middle East and Africa at DTC, commented: "We've been working with Robosys for several years now and are really delighted to be involved with this project, which will enable affordable, high quality, bespoke solutions across the marine marketplace. Our RF Mesh radio systems are perfect for exploiting this type of technology in unmanned applications – reliability is essential, so collaborating with this team is ideal."
Aditya Nawab, CEO of Robosys, said: "We want to combine our software design with the best local expertise available, so we are delighted to be teaming up with Ring, Ambex and Domo Tactical Communications on this – demonstrating the fantastic strength in depth in high tech boatbuilding, electronics and innovation in the Solent area."
David Jackson, CEO of Ring Powercraft, said: "Ring's capabilities in delivering performance, economy and rough water handling are well suited to unmanned marine products. Robosys have assembled an outstanding group of specialists in this collaborative project which has created the opportunity for us to enter this sector with an innovative, integrated and state of the art solution."
William Smith, CEO of Ambex Marine, stated: "Ambex have been at the forefront of electronic navigation, marine communications and design services since 1975. This collaboration is a natural step forward and an exciting adjunct to our British Venture project."