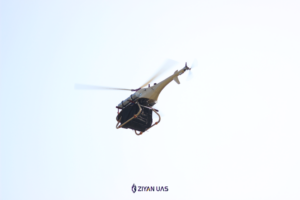 Electric UAV manufacturer Ziyan UAS has developed proprietary industrial drone platforms for use within energy, public safety, maritime rescue, mapping and surveillance industries. The multi-mission unmanned helicopters can undertake industrial inspection operations, mitigating risks, lowering costs and increasing efficiency.
Energy industry
Ziyan UAS drones can be fitted with dual optical zoom cameras to enable long-distance photography, airborne LiDAR to accurately find and locate energy infrastructure, comprehensively analyze terrain, landform and surface features, as well as identifying dangerous sites, to ensure safe and efficient operations.
Public Safety
Suited to emergency or a natural disaster response Ziyan's tethered system UAS can achieve up to 12 hours of hovering and monitoring, employing optical and infrared thermal imaging payloads to provide comprehensive on-site information to first responders. More importantly, the information can be transmitted in real time, with 4G map transmission, allowing response personnel to monitor the situation on the ground anytime and anywhere via large screen command center or mobile phone, effectively expanding the monitoring range to a safe distance up to tens of kilometers away. Ziyan has also independently developed a variety of emergency mission payloads, such as fire-fighting bomb throwers and spraying devices, to adapt to all kinds of disasters and to fully assist in emergency rescue operations.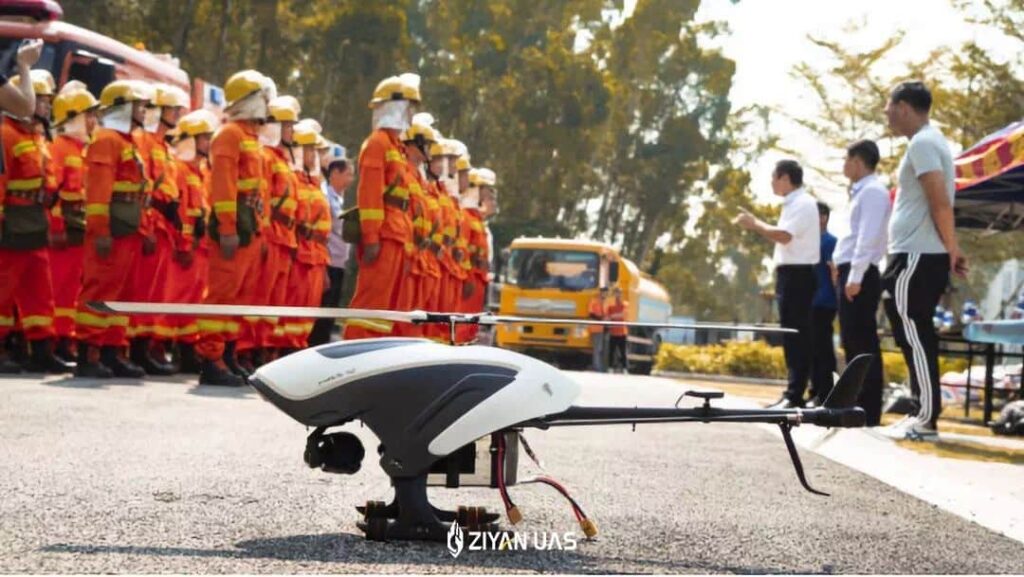 Marine Rescue
ZIYAN UAVs equipped with an airborne automatic identification system (AIS), can provide a wider field of maritime inspection than traditional sea patrol ships. The special structure of the unmanned helicopters provides greater wind resistance and enables control of flight attitude depending on changes the pitch. As for faster cruise and emergency response, the cruising speed of ZIYAN UAV is 60-100 km / h, and the highest speed is over 145 km / h, improving maritime emergency response capacity by reaching the target area faster than traditional methods.
Logistics
The Ziyan UAV logistics system can support a 15kg heavy load, can fly beyond visual line of sight, and has an integrated data link of image and data transmission with a transportation distance as far as 30km. The adaptive rotating speed system can automatically adjust to the most feasible speed according to environmental factors and can flexibly reduce battery energy consumption, which can extend endurance and transportation times. Therefore, even if the load is 7kg, the transportation distance can reach 20km.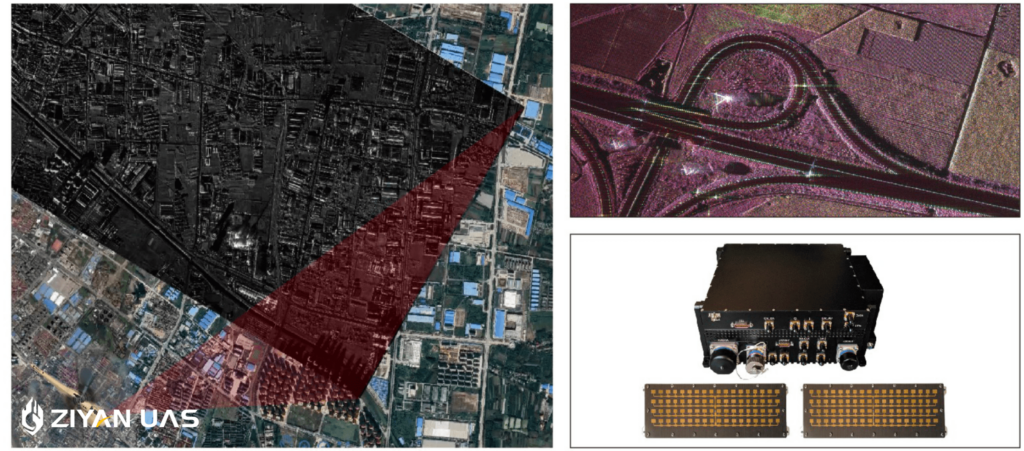 Mapping & Surveillance
Ziyan unmanned helicopters support a variety of high-precision surveying and mapping instruments such as 30x zoom high-definition EO tilt cameras with laser range finder. The Battlefield Fast Scanning Micro SAR Radar delivers high resolution real-time imaging, multi-channel Operation Capability and supports full polarization or InSAmode. The UAV ground control station offers multiple mapping and surveillance route planning solutions.
The heavy-lift capability of Ziyan UAVs make them particularly suited to carrying mapping and surveillance equipment, with a payload capacity of up to 15kg. The open design below the Blowfish A2 also enables specialist heavy freight transportation. Ziyan's team has incorporated a variable pitch propeller to enable control of the UAV simply by changing the angle of the propeller blade, greatly improving flight efficiency, manoeuvrability and wind resistance. Wind resistance can reach up to level 7 to achieve smooth flight, which is highly beneficial to surveillance and mapping tasks.