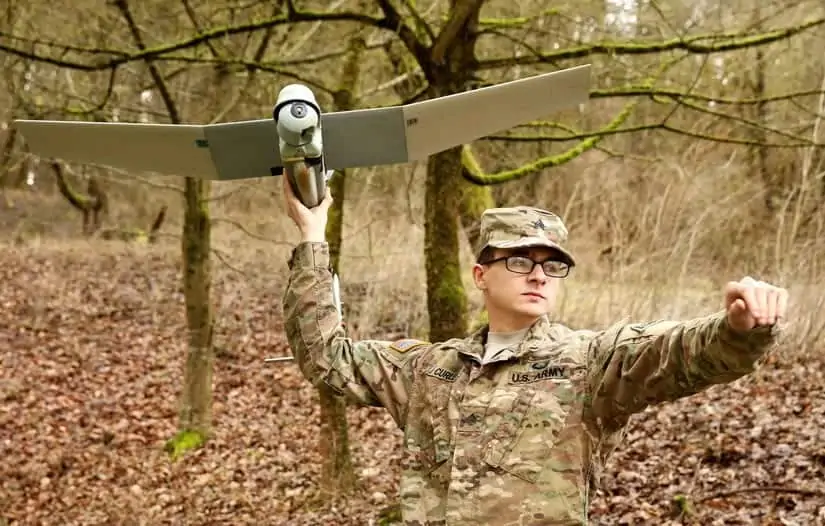 The U.S. Army has announced that its 1st Battalion, 4th Infantry Regiment has adopted small unmanned aircraft systems (sUAS) as a tool for battlefield reconnaissance and intelligence gathering. The regiment is assigned to the Joint Multinational Readiness Center at 7th Army Training Command's Hohenfels Training Area.
Army Sgt. Christopher Curley, the small unmanned aircraft systems master trainer assigned to Company B with the regiment's 1st Battalion, said drone aircraft can account for up to 60 percent of intelligence gathering during exercises.
"We typically can cover large areas of the "box" in rapid succession with our [small unmanned aircraft systems] teams," Curley said. "We paint a large portion of the intelligence picture with minimal risk to men and equipment. What may take a scout team a day to do may only take three hours for us."
The battalion is using three types of small drone aircraft: a commercial-off-the shelf quadcopter, an RQ-20 Puma unmanned aerial vehicle, and an RQ-11 Raven unmanned aerial vehicle.
The quadcopter can be used in a variety of roles to replicate current and potential threats for the purposes of the rotational units training here. Under perfect conditions, it offers short-range collection capabilities up to 4.3 miles, with a high-resolution camera sensor and can carry a small payload of up to 3 pounds about six-tenths of miles in distance, Army officials said.
The Raven, currently used by the U.S. military and several NATO and partner nations, has a much longer battery life of up to 60 minutes, and a cruising distance of about 6.2 miles, but it is not as versatile as the quadcopter with its hovering ability.
The Puma has arguably the longest battery life – about two hours – and a 12.4-mile range.
"The quadcopter is a great tool for quick recon," Curley said. "I relate it to fishing: you cast your reel, check that area and then move on. With the quadcopter you are more agile, but you lack the range of the Raven and some of the great tools it has. With the Raven, you get a lot of those tools, but you lack the agility, and it takes more time to master it and train soldiers to use it."
The Puma, on the other hand, "has the real ability to get out there and touch someone, with its extended battery life," he said.
According to instructors from Fort Benning, Georgia, who recently conducted a small unmanned aircraft systems master trainer's course, Army Pfc. Lucas Bria, with Company C, 1st Battalion, 4th Infantry Regiment, is now the Army's youngest SUAS master trainer after receiving a waiver for his rank to enroll in the course.
"SUAS gives us a unique view in the sky," Bria said, "where we can view objectives and targets from above, and the enemy usually doesn't account for this view. They'll usually set up camouflage and defenses linear to their position, not vertically."
The soldiers share their gathered intelligence and methods of collecting it with the units they're opposing during rotational exercises after they have concluded. Their intent is to relay how successful SUAS operations can be and how all Army units should start implementing them into their repertoire of tactics, techniques and procedures.
During Exercise Allied Spirit 8, Curley said, a quadcopter was launched from a remote area deep in the wooded training area, and within 15 minutes an enemy's position was spotted and grid coordinates were accurately reported to the team's higher command.
"Having this capability allows us to paint the big picture," Bria said. "We can provide information for indirect fire, for enemy movement, and anything our higher command may use it for. We're giving them a new view, and new information that they weren't able to get as quickly as before."