Webinar Details
Hosted by ElevonX
May 19, 2021 , 03:00 (UTC)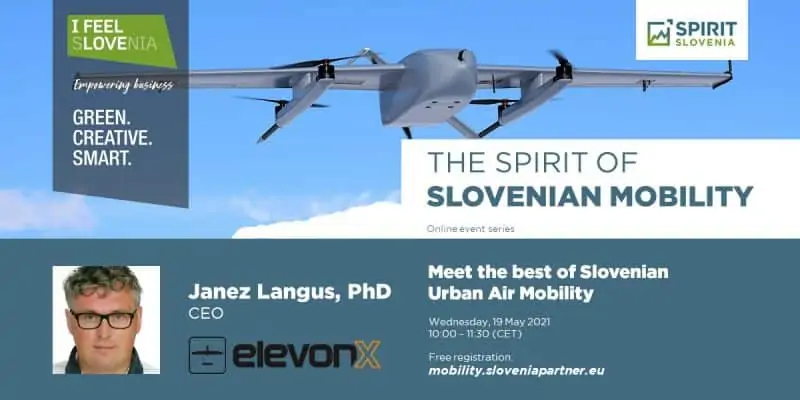 With rapid urbanization and a lack of efficient transport infrastructure, people all over the world are looking for a solution of more efficient mobility. One of the most daring, but probably also the most effective solutions is the use of the third dimension with drones.
Slovenia is known for its high-tech products and services and significant competitive advantages in the air mobility sector. With the superb talent pool, advanced R&D, breathtaking designs, and revolutionized manufacturing, Slovenian companies in the urban mobility sector offer sophisticated solutions to the market worth promoting.
Meet the key Urban Air Mobility players in Slovenia.
Janez Langus, PhD, CEO – ELEVONX – High-tech product and solutions provider for UAS with one cutting-edge integrated platform.
Marko Peljhan, Co-founder and CSO – C-ASTRAL – Global market leader in UAS manufacturing and services.
Marko Thaler, CTO – AIRNAMICS – Provider of one of the most advanced autonomous robotics systems.
Janez Nebec, Co-founder – ONEDRONE SLOVENIA – The largest Slovene drone-related vendor, consultant, and more.
Matej Vengust, CEO – NERVTECH – High-tech R&D company specializing in vehicle simulator technologies.