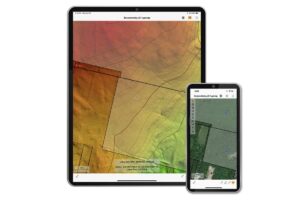 Blue Marble Geographics has released the following article highlighting the ability of its Global Mapper Mobile geospatial app to support communication with external GNSS devices via TCP/IP.
Global Mapper Pro is a powerful geospatial data analysis program that contains tools for everything from raster image processing to photogrammetric point cloud creation with the Pixels to Points tool. Designed to work alongside Global Mapper Pro, the free iOS and Android Global Mapper Mobile app makes it easy for users to bring GIS data into the field for reference and GNSS data collection. Used for surveying, capturing images, and recording high-accuracy control points for drone-collected image processing, Global Mapper Mobile, with the subscription-based Pro Module, can be utilized in any industry.
Using the internal location services of the iOS or Android mobile device by default, users can capture images and create points, lines, and polygon features in Global Mapper Mobile. With the addition of the Global Mapper Mobile Pro Module, Advanced GPS functionality supports Bluetooth connection to external GNSS devices and RTK connection for higher accuracy data collection. The latest update to the mobile app, version 2.3, extends GNSS device support to the new Juniper Geode GNS3 and Garmin GLO GPS units and incorporates a new method for connection through TCP/IP communication.
TCP/IP GNSS Device Communication
Before version 2.3 of the Global Mapper Mobile Pro Module, the Advanced GPS tools only supported connection to an external GNSS device via Bluetooth. Connecting to external devices via Bluetooth is reliable, but can require advanced permissions, which can be limiting in many situations. With a diverse market of available GNSS devices ready to be used by customers with Global Mapper Mobile, a new communication method was implemented, allowing GNSS device connection via TCP/IP communication.
The workflow to connect to a device using TCP/IP communication requires the IP configuration of the device through the Advanced GPS > IP Config option accessed through Global Mapper Mobile's Main Menu. Here, information, including a name, hostname, and port, is specified for the new device, and the configuration is saved. Once set up, the GNSS device can be used in Global Mapper Mobile for more accurate GNSS-based positioning.
While Global Mapper Mobile is available as a free download for both iOS and Android operating systems, the addition of the subscription-based Pro Module adds incredible value to the app through the suite of advanced tools. With external device Advanced GPS support for increased accuracy in data collection, additional online source availability, expanded projection support, and now, built-in analysis tools, Global Mapper Mobile with the Pro Module completes the Global Mapper set of geospatial data creation, collection, and analysis tools.
To test out Global Mapper Mobile, download the free app from the iOS App Store or Google Play Store.