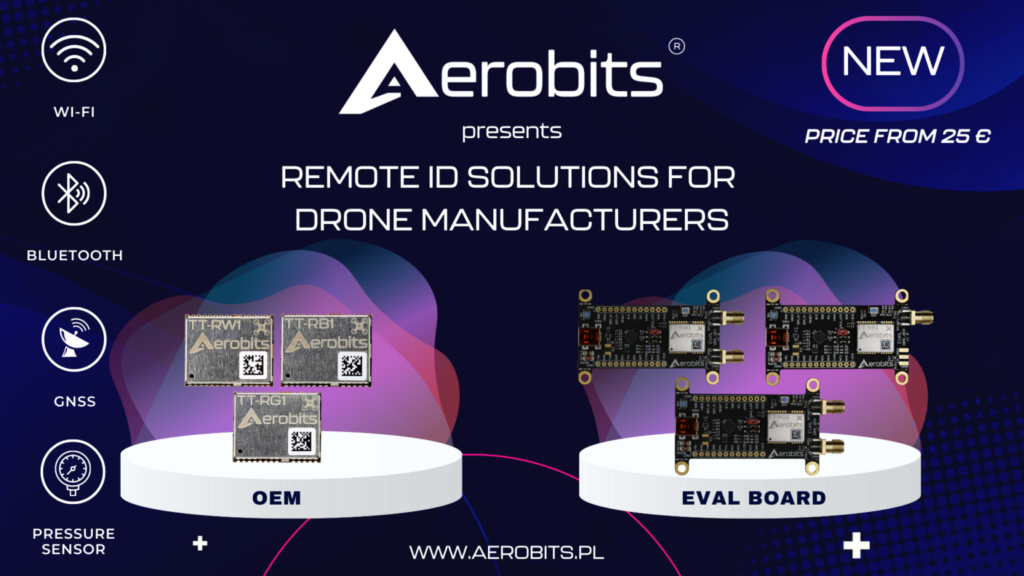 Aerobits has launched a new OEM module for Remote ID purposes. The TT-RW1 is an OEM Direct/Broadcast Remote ID solution designed especially for global drone manufacturers or aeromodellers, who want to comply with the FAA's and EASA's requirements.
Remote Identification data is a key part to think about while conducting airspace awareness and protection operations. The TT-RW1 module is a low-level solution prepared for integration with drones directly in their manufacturing process. The modules can communicate via the UART standard and USB.
The small size and very low weight distinguishes the TT-RW1 module from other Remote ID modules and enables the product to be used in virtually any category of drones.
TT-RW1 has implemented communication via MAVLINK V2 protocol, which significantly facilitates the integration with various flight controllers, it also has a CSV protocol, which is ideal for further data processing.
The solution allows the module to be post-integrated, not only in the Direct/Broadcast standard, but also through Internet databases using applications on phones, computers etc.
Aerobits idME Family
The idME Family by Aerobits is designed to meet the expectations of drone manufacturers and includes a series of OEM modules equipped with Remote ID modules:
Timeline of upcoming legal changes
The mandatory compliance date for registered drone operations begins on the 1st of January 2024 in European countries. The Remote ID rule declares that specific UAV or commercial drones must have Remote ID broadcast capabilities to fly legally in the airspace.