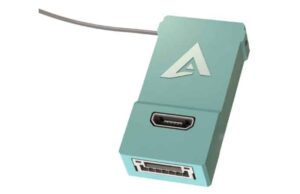 Aerobits has launched a new product that provides enhanced identification and tracking for unmanned aerial systems (UAS). The idME module has been developed in response to the publication of UAS Remote ID Standard – Specification for Remote ID and Tracking (F3411 − 19) by the standards organization ASTM International.
idME uses BLE (Bluetooth Low Energy) to provide surveillance and drone operator identification capability via modern mobile devices such as smartphones or tablets. The module can be easily connected to the Pixhawk drone controller via a JST connector.
For full operation, idME can be connected to a position source and can obtain GPS data and other parameters via the MAVLink protocol. AT commands allow configuration of broadcast message content such as drone identification number and type of aircraft, and additional authentication mechanisms are available. The device's small form factor and low power consumption make it ideal for even the smallest drones.