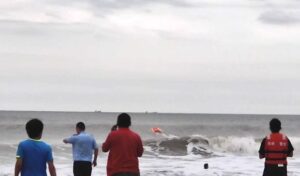 OceanAlpha has announced that its Dolphin 1 Water Rescue Robot has successfully rescued a teenager who had been swept out to sea, approximately 100 meters from shore, by a strong undercurrent.
The Shawo Police Station of Weihai Maritime Police Detachment released the Dolphin 1 Remote-Controlled Lifebuoy to rescue the 15-year-old boy. Dolphin1 navigated the huge waves to approach the struggling teen at its maximum speed and reached him in a very short time under the remote control of the police. The boy successfully grabbed Dolphin 1 and was brought back to shallow water safely and stably.
According to Gong Zhengqing, deputy director of Shawo Police Station, the Dolphin 1 Water Rescue Robot was previously purchased by the Maritime Police Detachment of Weihai City to specifically equip the first responders for quicker and safer water rescue.
OceanAlpha has said that this operation is a notable example of many successful use cases of Dolphin 1 to assist rescuers worldwide in guarding a wider water area. The portable, easy-to-use and affordable Remote-Controlled Lifebuoy can also support the rescue team to save victims trapped in floods.
According to WHO's global report, drownings claim the lives of 372 000 people each year. The invention of the Dolphin1 water rescue robot is expected to enhance the efficiency of water rescue and reduce risks for rescuers under various streamflow conditions.