M40P Long Endurance Multi-Function USV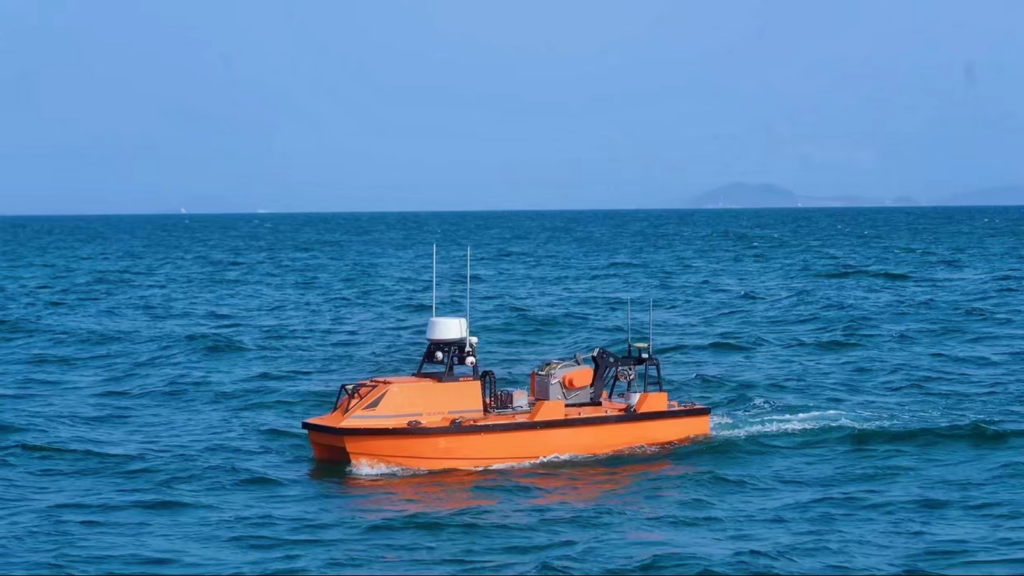 ① Universal Application
The M40P can carry a wide range of equipment to conduct bathymetry, seabed mapping, and geological hazard inspection.
· Single-beam echo sounder
· Multibeam echo sounder
· ADCP
· 3D LiDAR scanner
· Side scan sonar
· Forward-looking sonar
· Water quality sonde
· Sub-bottom profiler
② Autonomous Navigation
Piloted by autonomous navigation algorithm, M40P can carry out round-clock inspection according to the preset route, greatly reduces the workload of and safety threats to personnel.
③ Superior Stability
M40P's unique hull catamaran design structure design provides exceptional performance even in turbulent waves, significantly reducing swaying and spray foam, providing a stable and quite working condition for acoustic equipment.
④ Quiet and Clean
Powered by a diesel generator, the M40P has a single lifetime of up to 24 hours, while it can operate continuously for weeks by refueling.
The generator can be turned off when surveying to provide a quiet and zero-emission operating environment for the equipment to guarantee data accuracy.
⑤ Exceptional Maneuverability
The configuration of twin engines and twin propellers, combined with the catamaran shape, elevates its maneuverability when navigating closely around foundations constructions for zoom-in inspection.
High-precision positioning and advanced navigation control algorithm minize risk of collision.
⑥ Fleet Collaboration
Multiple USVs can group up to form a fleet, navigating the same route while conducting varied inspections.
The fleet can be piloted by one workstation to conduct a large scale investigation of different dimensions, significantly reducing labor costs and improving operational efficiency.
Specifications:
| | |
| --- | --- |
| Dimensions | 4.5m x 2.33m |
| Range | 10-20km |
| Endurance | 100h @ 4kn |
| Payload | 80kg |
| Weight | 1400kg |
| Max Speed | 7 knots |