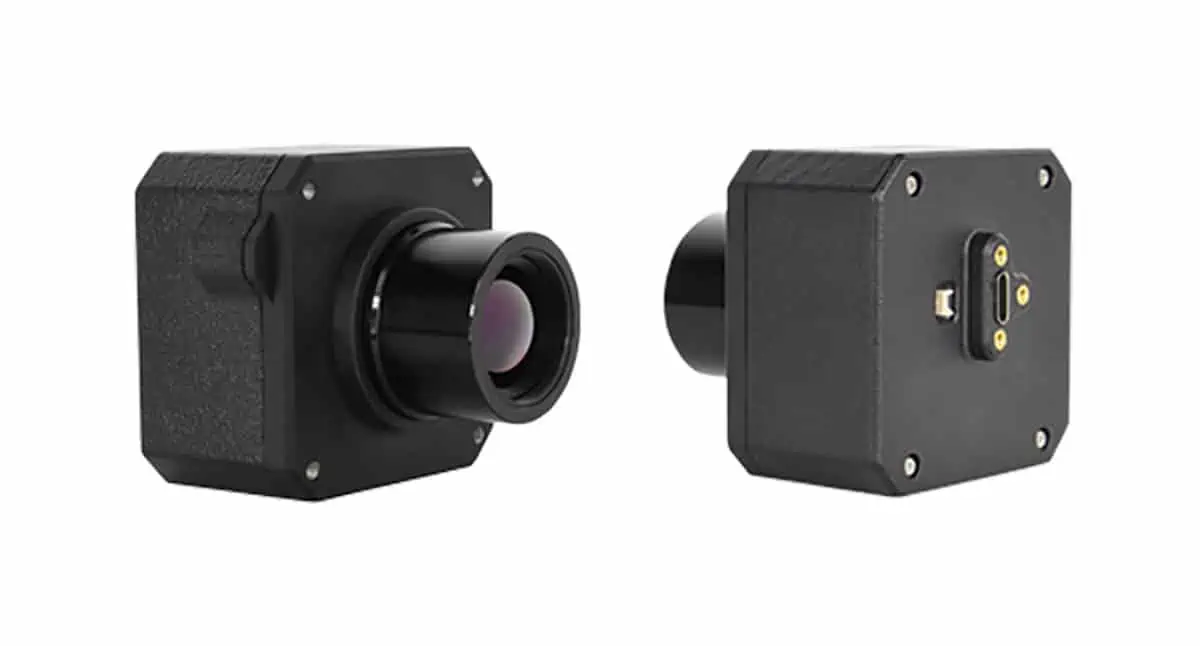 Sierra-Olympia Technologies, Inc. has released the Viento 1280, a new high definition (HD) uncooled long wave infrared (LWIR) camera. This new LWIR camera core features a unique 1280×1024 microbolometer sensor with 10-micron pixel pitch. The microbolometer focal plane array is based upon Leonardo DRS EOIRS Tenum 1280M LWIR sensor core.
The Viento 1280 infrared camera offers very high sensitivity uncooled infrared FPA performance in a small, compact (SWaP) package designed for development environments in applications such as unmanned airborne vehicles, situational awareness on ground vehicles, unmanned ground vehicles, and other infrared camera applications requiring resolution four times greater than traditional VGA resolution sensors.
Viento 1280 offers USB 3.0 digital outputs compatible with UVC standards. A 14-bit digital video stream is offered on an OEM board-to-board connector, or via an adapter board with a USB-C connector. A full support package offers reference designs and sample code for full implementation of the sensor's <50 millikelvin sensitivity. The sensor's trigger signals are made available for synchronous operation of one or more sensors.
The Viento 1280 is currently offered with 25mm and 35mm F1.2 lens options, or in a no-lens configuration. The focal plane array operates at a 30 Hz frame rate. An integrated one-point offset correction function with NUC paddle is included. Sierra-Olympia offers a M34-0.5 lens mounting function, with multiple options for custom lens interfaces. The camera is designed as a test and development tool and provides HD LWIR digital video for custom application development.
"This Viento 1280 from Sierra-Olympia represents the next evolution in uncooled thermal imaging cameras with true HD display resolution", according to Chris Johnston, President of Sierra-Olympia. "Customers are asking for high display resolution thermal cameras with added flexibility, which this solution brings to the infrared camera market. Sierra-Olympia looks forward to working with customers to integrate the Viento 1280 into their infrared systems."
The Sierra-Olympia team will be at booth 1854 at AUVSI Xponential 2022 demonstrating the Viento 1280 and other HD and full HD infrared cameras, optical gas imaging cameras, and zoom cameras-as-components.