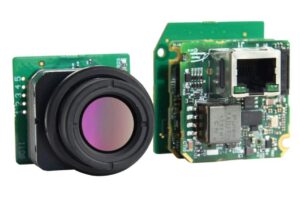 Sierra-Olympic Technologies has released two new long-wave infrared (LWIR) camera models based around a VGA resolution 10µm pixel pitch microbolometer. The low-SWaP (size, weight and power) cameras, featuring either a USB or Gigabit Ethernet interface, are ideal for integration into UAVs (unmanned aerial vehicles) and robotic systems.
The Viento-10 USB and Viento-10 GigE provide end-users and system integrators with universal compatibility and out-of-the-box functionality, thanks to the two standard interface options (USB 3.0 UVC and GigE Vision 2.0). The Viento-10 USB functions like a webcam when plugged in, while the GigE version is designed for users who prefer an ethernet connection and PoE versus USB. Software for both versions supports full dynamic range, full frame rate digital video.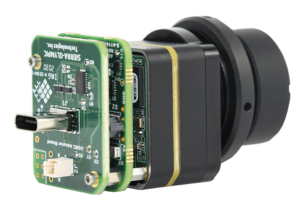 7.7 mm, 15 mm and 20 mm lens options are currently available for both cameras, with a range of additional models currently in development. The sensor was developed in partnership with DRS Technologies. Sierra-Olympic is the exclusive North American distributor of DRS's widely-used Tamarisk and recently-released Tenum 640 LWIR camera lines.
In addition to improved functionality, the Viento-10's smaller pixel pitch delivers increased sensitivity and sharper imagery, a narrower relative field of view, and allows for smaller, lighter optics. It also operates at double the frame rate (60 Hz) of its comparable predecessors.
Chris Johnston, President of Sierra-Olympic, commented: "The Viento-10 is the latest evolution in high-performance, low SWaP long-wave infrared technology. Ten microns is the smallest pixel pitch LWIR on the market, and USB and GigE interfaces make the technology easier to use and integrate into a wider variety of systems and applications."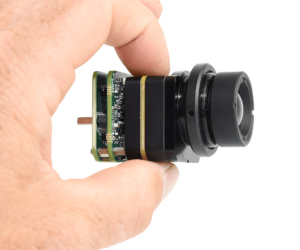 "This has proven to be the most sensitive uncooled microbolometer technology we've seen, with sensitivity below 30 mK in most cases. As part of Sierra-Olympic's broader line of Viento cameras, the goal is to provide standardized interfaces and familiar signals to help ease integration challenges and make our customers' lives easier."
Watch a video featuring a technical breakdown of the new Viento-10 series below:
Key specifications:
Uncooled Vox Microbolometer
640 x 512 resolution
10 µm pixel pitch
60 Hz frame rate
Sensitivity (w/noise filters) <30 mK
USB3.0 UVC or GigE Vision® connectivity