Blue Marble Geographics, a leading developer of state-of-the-art software solutions for geospatial professionals, has partnered with Unmanned Systems Technology ("UST") to demonstrate their expertise in this field. The 'Silver' profile highlights how their products are ideal for comprehensive editing and processing of GIS data as well as photogrammetric and LiDAR point cloud data captured by drones and UAVs (unmanned aerial vehicles).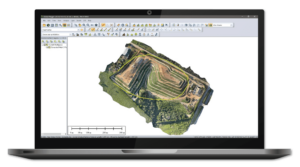 Global Mapper is a state-of-the-art GIS software package that provides comprehensive geospatial data analysis and processing capabilities for novice and experienced geospatial professionals alike. With a highly intuitive user interface and powerful tools, it delivers efficient data processing and management and accurate map creation and is ideal for organizations of any size.
Global Mapper supports over 300 raster, vector, and elevation data types, including common file formats as well as proprietary types, allowing users to get to work right out of the box. The built-in online data function includes direct links to a variety of data services, including one-meter aerial imagery for the U.S., worldwide elevation data, topographic maps, Landsat satellite imagery, and more.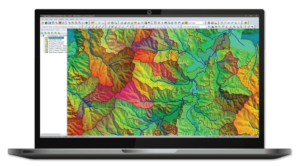 The software is also designed for easy visualizing, editing, and analysis of LiDAR or point cloud data of any format. Enhanced rendering and processing speeds allow users to utilize data from point clouds of almost any size efficiently and effectively. Global Mapper provides access to point cloud file attributes, providing a critical snapshot of essential information for your data processing workflow.
Global Mapper Pro builds on the base functionality of Global Mapper with a variety of powerful professional tools for editing and processing LiDAR and photogrammetric point cloud data captured by drones. Incorporating all of the point cloud processing functionality available in Global Mapper's Lidar Module, Global Mapper Pro adds an extensive array of features that perfectly complement and expand the existing software capabilities.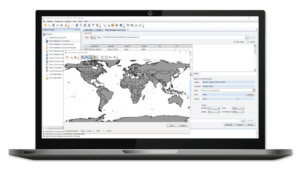 Geographic Calculator is a powerful geodetic software package that provides accurate coordinate conversion, datum transformation, and file translation. Incorporating the largest geodetic parameter database available anywhere, it is an essential tool for UAV surveying as well as for seismic data management and energy exploration.
The intuitive Interactive Conversion feature allows users to select source and destination coordinate systems, enter the coordinates, choose the datum transformation and get results with the click of a button.
To find out more about Blue Marble Geographics and their software solutions for UAV geospatial applications, please visit their https://www.unmannedsystemstechnology.com/company/blue-marble-geographics/