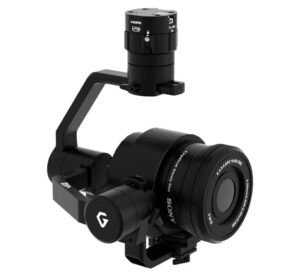 Gremsy has unveiled its next-generation 3-axis camera stabilizer gimbal for professional UAV (unmanned aerial vehicle) applications. The compact and lightweight Mio is designed for industrial and commercial usage where an optimal weight-to-payload ratio is crucial.
Highly reliable and providing stability even in harsh conditions, Mio is Gremsy's smallest and lightest gimbal, with a small form factor camera cage measuring just 43 x 85 x 70mm. Due to the removal of the top bar on the tilt axis, Mio weighs only 250g, approximately half the weight of Gremsy's Pixy U gimbal.
The versatile gimbal provides compatibility with a wide range of payloads weighing up to 400g, including the Sony R10C mapping sensor, the MicaSense Rededge multispectral camera, or the Flir Vue Pro R infrared camera. Payloads are held tightly on two points of contact – the sliding tray and the side of the tilt motor – resulting in easier setup while still providing excellent vibration resistance.
Most gimbals are designed to be mounted at the bottom of the aircraft or installed upside-down on the top. However, with Mio, users can capture distinct camera angles from any perspective with three different mounting options: bottom, top, and front mounting. Bottom-mounted gimbals are ideal for aerial mapping and surveying, while a front-mounting option provides improved visibility for obstacle detection for multi-rotor drones and unmanned helicopters.
The gimbal quick release has been redesigned for Mio, with the Power Port, HDMI port and the 20-pin connector for AUX, COM, CAN, SBUS and PPM now all connecting through the MTX hub. Mio's AUX port provides up to 8 signals for connecting to other devices such as AV signals or camera triggers.